Colin Kaepernick featured in Nike "Just Do It" 30th anniversary campaign, along with Serena Williams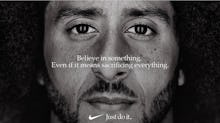 Colin Kaepernick is a featured athlete on Nike's new slate of "Just Do It" advertisements, which commemorate the 30th anniversary of the iconic slogan's 1988 debut, ESPN reported Monday.
"We believe Colin is one of the most inspirational athletes of this generation," Gino Fisanotti, Nike's vice president of brand for North America, told the outlet. "[He] has leveraged the power of sport to help move the world forward."
The 30-year-old former San Francisco 49ers quarterback tweeted the image above on Monday afternoon.
"Believe in something, even if it means sacrificing everything," the caption reads, followed by the hashtag #JustDoIt.
Other athletes featured in the campaign include New York Giants receiver Odell Beckham Jr., Los Angeles Lakers forward LeBron James and multiple Grand Slam champion Serena Williams.
Kaepernick has faced hostility from NFL fans and alleged blacklisting by the league's team owners since August 2016, when he declined to stand during the national anthem before a preseason game, to protest racism and police violence.
He continued his demonstration by kneeling during the anthem before subsequent contests, sparking a nationwide movement of athletes protesting in solidarity — which in turn drew the ire of President Donald Trump and a highly publicized counterprotest by Vice President Mike Pence.
Kaepernick has not been signed to an NFL roster since he became a free agent in March 2017, and is currently embroiled in a collusion case against the NFL for allegedly conspiring to keep him off the field because of his activism.
The New York Times reported on Aug. 30 that an arbitrator appointed by the NFL Players Association ruled Kaepernick and his legal team had unearthed enough evidence for the case to proceed to a full court hearing.
Kaepernick's inclusion in the "Just Do It" campaign marks another foray into politics for Nike, which responded to Trump's bigotry-fueled election and inauguration in 2017 with an ad titled "Equality."
"Here," the narrator says, referring to courts, fields and other sites of athletic competition, "you're defined by your actions, not your looks or beliefs. Equality should have no boundaries."