Hype Daily: 'The New Yorker' backtracks on Steve Bannon — and more entertainment news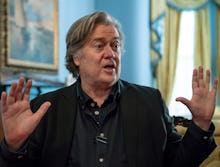 Welcome to Hype Daily, Mic's morning entertainment roundup. Here's everything you need to catch up on in the entertainment world and what to look forward to today. Want to receive this as a daily email in your inbox? Subscribe here.
Good morning, readers — if you had Monday off, welcome back after the long weekend. Hope everyone is relaxed and ready to catch up on all the entertainment and culture news that broke over the past few days.
The New Yorker invited Steve Bannon to its festival — and then uninvited him
On Monday, the New York Times reported that Steve Bannon, the former White House adviser and "alt-right" enthusiast, would be a headlining guest at the annual New Yorker Festival in New York City in October, hosted by the prestigious magazine. And not only would Bannon headline the event — which also was scheduled to include guests like Emily Blunt, Maggie Gyllenhaal, Janet Mock and Boots Riley — he was supposed to be interviewed by none other than New Yorker editor David Remnick.
It didn't take long for fellow guests and laypeople alike to question why the magazine had invited Bannon in the first place. As the Times reported on Monday, John Mulaney, Judd Apatow, Jack Antonoff and Jim Carrey, all scheduled guests, announced they were pulling out of the festival because Bannon would be there.
The outrage kept building, and late on Monday, the New Yorker officially uninvited Bannon. In a statement from Remnick posted on Twitter on Monday, he said, "I've changed my mind. There is a better way to do this. Our writers have interviewed Steve Bannon for the New Yorker before, and if the opportunity presents itself I'll interview him in a more traditionally journalistic setting as we first discussed, and not on stage."
Bannon, for his part, said in a statement that Remnick was "gutless when confronted by the howling online mob." Oh well!
Colin Kaepernick is the new face of Nike
Athlete and activist Colin Kaepernick, who was effectively blackballed by the NFL after he began protesting police brutality by kneeling during the playing of the national anthem, is the new face of Nike's "Just Do It" campaign. The campaign was announced on Monday, ESPN reported, and it's part of Nike's 30th anniversary of the "Just Do It" motto.
In the new Nike ad that Kaepernick shared on his Twitter account on Monday, his face appears in black and white, under the following words: "Believe in something. Even if it means sacrificing everything." Predictably, angry Kap haters have begun destroying their own Nike gear — even though they presumably already paid for it?
Childish Gambino dropped a new video
Rapper Childish Gambino, aka Donald Glover, dropped a new music video on Friday for his song "Feels Like Summer," and the clip is an animated tour of famous black musicians, artists and cultural icons of the past and present. In it, an animated Glover walks through an animated suburban neighborhood during the late afternoon golden hour, as animated versions of people like Solange, Chance the Rapper and Whitney Houston do summertime things around him.
The video is filled with what could be considered, well, heavy-handed imagery, including one moment where Michelle Obama comforts a crying Kanye West, who is wearing a "Make America Great Again" hat. Watch it here and take a look for yourself.
Aretha Franklin's family says they weren't happy with a eulogy delivered at her funeral
Vaughn Franklin, nephew of the late Aretha Franklin, told the Associated Press on Monday that the Queen of Soul's family wasn't happy with a eulogy delivered at her funeral by Atlanta pastor Jasper Williams Jr. "He spoke for 50 minutes and at no time did he properly eulogize her," Franklin told the AP.
Williams did, however, criticize single mothers and tell the crowd, "Black lives must not matter until black people start respecting black lives and stop killing ourselves." Franklin told the AP that Williams' eulogy "caught the entire family off guard," and called it "very distasteful."
Put this on your radar: Peppermint
The new Jennifer Garner action flick Peppermint doesn't hit theaters until Friday but I, for one, am already curious to see Garner in a role that has her punching baddies. The movie tells the story of a woman, played by Garner, whose husband and daughter are killed in a violent attack. When the system fails to punish their killers she obviously becomes a crime-fighting vigilante. Will the film be any good? That part isn't clear yet, but it will definitely be fun to watch Garner go ham on a bunch of guys, harkening back to her Alias days.