Today in Trump's America: Trump wants Sessions to hold GOP members of Congress above the law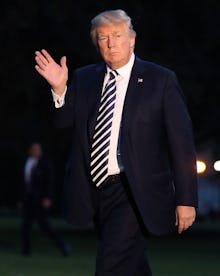 Welcome to Mic's daily read on Donald Trump's America. Want to receive this as a daily email in your inbox? Subscribe here.
Good morning from Emily Singer at Mic.
Here's what's happening in Trump's America:
• Trump has no public events on his schedule.
Today's question: Do you think Brett Kavanaugh will be confirmed, and by what margin?
Send me your predictions to TrumpsAmerica@mic.com, and I'll include them in Wednesday's newsletter.
About the weekend: Trump grouses that FBI would indict Republican lawmakers
So much for being the "law and order" candidate.
Trump on Monday complained that the Department of Justice would indict Reps. Chris Collins and Duncan Hunter — two GOP lawmakers who were among the earliest members of Congress to back Trump's bid — even though the DOJ is currently run by a Republican Trump appointed.
"Two long running, Obama era, investigations of two very popular Republican Congressmen were brought to a well publicized charge, just ahead of the Mid-Terms, by the Jeff Sessions Justice Department," Trump tweeted Monday. "Two easy wins now in doubt because there is not enough time. Good job Jeff."
It shouldn't have to be said, but political parties aren't entitled to literal "get out of jail free" cards simply because the DOJ is controlled by a member of their political party.
For example, a number of Democratic lawmakers were indicted during former President Barack Obama's tenure, including former Rep. Chaka Fattah of Pennsylvania — who was convicted on multiple counts of racketeering, fraud and money laundering — and former Rep. Corrine Brown of Florida — who is currently serving a five-year prison sentence for fraud.
And not that it matters when it started, but Trump falsely stated the investigations into Collins began during the Obama administration. Collins was indicted for insider trading that federal prosecutors allege he carried out on White House grounds during a picnic hosted by Trump himself.
Republicans — who complained of improper FBI influence when former President Bill Clinton met on a tarmac with then-Attorney General Loretta Lynch during the 2016 campaign — have said little about Trump's desire to see his attorney general block indictments of friendly lawmakers.
Those who did speak out include Sen. Ben Sasse (R-Neb.), who in a strongly worded statement said, "The United States is not some banana republic with a two-tiered system of justice — one for the majority party and one for the minority party."
"These two men have been charged with crimes because of evidence, not because of who the president was when the investigations began," Sasse continued. "Instead of commenting on ongoing investigations and prosecutions, the job of the President of the United States is to defend the Constitution and protect the impartial administration of justice."
Of course, it remains to be seen how Republicans would react if Trump fires Sessions and appoints a new attorney general who he ostensibly would pick to protect him and the GOP from being investigated.
Democrats would surely protest, but if the GOP still controls the Senate, they have almost no recourse to stop a Trump nominee from being confirmed unless Republican lawmakers vote against Trump's pick.
Today in Trump's America: Kavanaugh confirmation hearings begin
The Senate Judiciary Committee begins holding hearings for Trump's Supreme Court nominee, amid objections from Democrats — who say hearings should be postponed until all documents related to Brett Kavanaugh's political past are released and reviewed.
More than 100,000 documents from Kavanaugh's time in the Bush White House are being withheld on the grounds of "executive privilege," which Democrats are also crying foul on.
"We're witnessing a Friday night document massacre," Senate Minority leader Chuck Schumer tweeted Saturday. "President Trump's decision to step in at the last moment and hide 100k pages of Judge Kavanaugh's records from the American public is not only unprecedented in the history of SCOTUS noms, it has all the makings of a cover up."
And Monday night, hours before Kavanaugh's confirmation hearing was set to begin, Republicans released 42,000 pages of documents related to Kavanaugh, leading to yet more Democratic complaints that there is no way they could sift through those documents before the hearings begin.
"Monday night document Massacre!" Sen. Amy Klobuchar (D-Minn.) tweeted. "That means you bury your inquiring senators in 42,000 more Kavanaugh documents the night BEFORE the hearing starts. I work late and read fast but not even I could read them before we start. #MoreCoffee. #postpone"
Meanwhile, a new ABC News/Washington Post poll released Tuesday morning found just 38% think Kavanaugh should be confirmed to the nation's highest court — which ranks among the lowest level for a Supreme Court nominee since 1987, when polling on nominees began. Just two nominees have had lower levels of public support: Harriet Miers, who was forced to withdraw her nomination in 2005 amid backlash that she was not qualified for the job, and Robert Bork, whose nomination was rejected by the Senate in 1987.
Also of note in that poll is that 6 in 10 say Kavanaugh should state his views on abortion before he is confirmed.
Democrats have said Kavanaugh could be the deciding vote in overturning Roe v. Wade, the landmark Supreme Court case that guarantees women the right to an abortion.
Capitol Hill happenings: Blue wave continues to build
Labor Day has come and gone, which means election season has entered the home stretch.
Experts say the generic ballot becomes more predictive of a party's chances in the midterm elections after Labor Day. And given the spate of polling out over the weekend, Republicans begin the final push toward the midterms in poor shape.
Two new polls found Democrats with a double-digit generic ballot lead — a number that would lead to a Democratic tsunami.
Emerson College found Democrats with a 13-point generic congressional ballot lead, while ABC News/Washington Post found Democrats with an even wider 14-point generic congressional ballot lead.
Overall, Democrats have an average of a 9.5-point lead on the generic congressional ballot, according to RealClearPolitics.
For context, on Labor Day 2010, Republicans held a 6.4-point average lead in RealClearPolitics' generic congressional ballot. Republicans went on to win the national vote that year by 6.8%, which amounted to a massive GOP wave that swept Democrats out of power in the House.
And the rest…
Democratic primary to watch: All eyes will be on Massachusetts' 7th District Tuesday night, when Democratic Rep. Michael Capuano will try to defend his seat against Ayanna Pressley, who has the support of both progressive and women's groups — as well as some major Democratic elected officials in the state, including state Attorney General Maura Healey. Pressley also has the backing of the Boston Globe editorial board, a major coup for her campaign.