Twitter CEO Jack Dorsey may have argued to keep Alex Jones and Richard Spencer on his site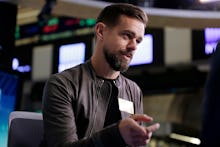 Jack Dorsey, Twitter cofounder and CEO, may have opted to keep InfoWars host Alex Jones and white nationalist Richard Spencer on Twitter, even when employees of the company tried to remove them from the site.
According to the Wall Street Journal, "after Twitter's controversial decision to allow far-right conspiracy theorist Alex Jones to remain on its platform, Mr. Dorsey told one person that he had overruled a decision by his staff to kick Mr. Jones off." Twitter told the WSJ Dorsey was not involved in those discussions. Similarly, in November 2016, a team within Twitter kicked Richard Spencer off the platform for operating too many accounts. According to the WSJ, Dorsey told the team Spencer should be allowed to keep one account. Twitter told the WSJ that Dorsey does not typically overrule the staff on content issues; however, there are reports of him weighing in or overriding decisions at the last minute.
Twitter's choice to continue giving Jones a platform follows actions taken by Apple, Facebook, Spotify and YouTube to limit or remove Alex Jones content from their sites. Twitter didn't do the same. In a recent interview with Sean Hannity, Dorsey explained why. "We do believe in the power of free expression, but we also need to balance that with the fact that bad-faith actors intentionally try to silence other voices," Dorsey said. A week after the Hannity interview, Dorsey was interviewed by NBC News, and he noted Twitter had removed Jones' ability to tweet for a "time period." Jones has since regained control of his Twitter account.
Richard Spencer has seen punishment, too. The white nationalist had his verification checkmark removed in November when Twitter changed its guidelines to clarify a blue checkmark is used to verify identity, not act as an endorsement. But even without the blue checkmark, Spencer is still able to tweet.
Twitter isn't the only company struggling with the balancing act of allowing right-leaning voices and censoring content that crosses over into hate speech. In an interview with Recode, Facebook CEO Mark Zuckerberg explained why Alex Jones should continue to live on his site, saying that being wrong online shouldn't get you kicked off a website. For example, he said he finds it "deeply offensive" that members of Facebook deny the Holocaust occurred, but he doesn't believe that's grounds for removal. "I don't believe that our platform should take that down because I think there are things that different people get wrong." Most recently, right-leaning employees at Facebook noted struggles with their voices being heard at the predominantly left-leaning company.
On Wednesday, Twitter's Jack Dorsey will head to Capitol Hill, along with Facebook COO Sheryl Sandberg, to discuss Russian election interference and political censorship. Dorsey may have to answer more questions about who Twitter allows, and doesn't allow, on its service.