Republican county official resigns after calling black football players "overpaid baboons"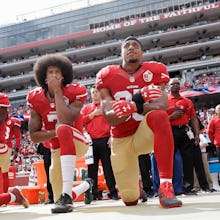 As Nike's recently unveiled ad campaign featuring Colin Kaepernick continues to trigger some kind of racial glitch in the matrix, one Republican county official was forced to tender her resignation on Tuesday after calling black football players taking a knee to protest police brutality "overpaid baboons."
In a public Facebook post from last year first reported by local Pennsylvania paper the Beaver Countian, Beaver County Republican Committee secretary Carla Maloney — writing under a different name — wrote that she was "tired of these over paid ignorant blacks telling me what I should believe in."
"I will tell you what I believe in and that is our Flag the National Anthem and America period end of story," Maloney wrote in one post, referencing NFL players who kneel during the national anthem before games to protest police violence. "You don't like it here go to Africa see how you like it there. We are all Americans not African American not Hispanic American. WE ARE ALL AMERICAN."
Maloney, who at the time of the posts had not been appointed to her current position, also hypothesized that the widespread demonstrations amount to "reverse racism."
"I am so sick of the name calling, rioting, shooting, and looting. I don't know when but there will be another civil war in this country soon than later."
In her public resignation letter, Maloney wrote that the posts were made public as part of an "ongoing family dispute" and noted that they were "disrespectful to not only the people that I love, but families across the country."
"I know I am a better person than this and, as I step away from these public positions, I will work to show everyone who I truly am," she added.
As other Facebook posts published by the Beaver Countian show, Maloney is a proud supporter of President Donald Trump, another frequent critic of the NFL protests that Kaepernick first helped popularize in 2016.
On Monday, Nike revealed its new campaign to honor the 30th anniversary of the "Just Do It" slogan, which features Kaepernick's visage alongside the words, "Believe in something. Even if it means sacrificing everything." The ad ignited a firestorm of outrage, with some people lighting their Nike apparel on fire in protest of the Kaepernick feature.
"Our Soundman just cut the Nike swoosh off his socks," country music star John Rich wrote in a Monday night tweet. "Former marine. Get ready @Nike multiply that by the millions."