Two black transgender women — Vontashia Bell and Dejanay Stanton — were killed the same day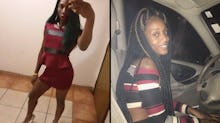 Two black transgender women were killed Aug. 30 in separate cities — one in Shreveport, Louisiana, and one in Chicago.
Eighteen-year-old Vontashia Bell was fatally shot in Shreveport early Thursday morning, according to the Advocate. She was found around 4:30 a.m. and taken to a nearby hospital, where she was pronounced dead. Local outlet the Shreveport Times reported on Bell's death but misgendered and "deadnamed" her, meaning it referred to Bell by her birth name.
The community group Louisiana Trans Advocates released a statement Thursday identifying Bell as trans and calling for local leaders to "work together with the trans community to curb" anti-trans violence.
"Vontashia Bell must not die in vain," the statement read. "Her murder is a reminder of the current climate and national discourse on trans issues. Dehumanizing language and actions lower the barriers to this kind of senseless violence. Shreveport and Louisiana leaders must speak out against these killings; against the ongoing, systemic devaluation of trans people that pervades our media and politics; and against the institutional racism that places almost all of this burden on trans women of color."
Just hours after Bell was killed, 24-year-old Dejanay Stanton was found with a fatal gunshot wound in Chicago's Bronzeville neighborhood, the Chicago Sun-Times reported Friday. Stanton, who was discovered around 11:20 a.m. Thursday morning, was taken to nearby Stroger Hospital and pronounced dead, according to the Sun-Times. Her death was later ruled a homicide.
In a Facebook post Thursday, trans activist LaSaia Honey Wade, an organizer with Chicago trans rights group Brave Space Alliance, wrote, "We lost another sister here in Chicago sending her family and love one peace and justice! Rest in power Dejanay Stanton."
Stanton's personal Facebook page was filled with details about her day-to-day life. Earlier in August, she had posted about the importance of getting tested regularly for sexually transmitted infections using the hashtag #KnowYourStatus.
Friends mourned Stanton on social media with the hashtag #JusticeForDada. In one post, a friend wrote, "I still can't believe she's gone ... that was my friend y'all, when I say a friend I mean a real friend." Another wrote, "Who would wanna hurt someone so sweet."