Leahy slams Kavanaugh nomination process: "I never thought the committee would sink to this"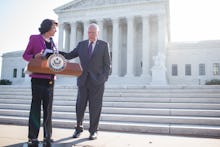 Sen. Patrick Leahy (D-Vt.), the most senior member of the Senate, ripped Republicans for "discarding" its vetting process for Brett Kavanaugh — President Donald Trump's pick to replace retired justice Anthony Kennedy.
"Nothing about this is normal," Leahy said in his opening remarks. "Today, the Senate is not simply phoning in our vetting obligation — we're discarding it. It's not only shameful — it's a sham."
"I never thought the committee would sink to this," Leahy said.
The remarks came as Kavanaugh's confirmation hearing got off to an acrimonious start.
Democrats argued before opening remarks that Republicans have rushed Kavanaugh's nomination process. They also called for confirmation hearings to be delayed in the interest of transparency.
But Sen. Chuck Grassley (R-Iowa), chairman of the Senate Judiciary Committee, refused to hold a vote on a motion by Sen. Richard Blumenthal (D-Conn.) to adjourn the hearing, saying, "Senators have had more than enough time and materials to adequately assess Judge Kavanaugh's qualifications."
Among the issues Democrats raised was the release late Monday of tens of thousands of documents related to Kavanaugh's record, which they said they hadn't had an adequate chance to review.
They also raised concerns about Trump's use of executive privilege to withhold portions of Kavanaugh's record, which Blumenthal and others suggested indicates Republicans are "trying to hide" elements of the nominee's background. Democrats raised additional objections to Kavanaugh related to the legal clouds hanging over Trump, along with his repeated attacks on the legal system, including a Twitter outburst Monday in which he suggested that the Department of Justice should not have prosecuted his Republican allies because they put two House seats "in doubt" ahead of November's midterms.
"Good job Jeff," Trump tweeted Monday, referring to Attorney General Jeff Sessions, who has become a punching bag for the president since recusing himself from matters related to the Russia investigation in early 2017.
While Republicans pushed back on Democrats Tuesday, accusing them of hyperpartisanship and of creating a "mob" atmosphere in the hearing, Leahy, overseen 19 Supreme Court nominations, lamented that the committee was breaking with its responsibility to provide adequate oversight to Trump's lifetime appointment to the nation's high court.
"I've represented Vermont for 44 years, believing the Senate can and should be the conscience of the nation," Leahy said. "Today with this hearing, it is not."