Former Sen. Jon Kyl to replace John McCain in the Senate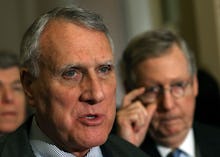 Arizona Gov. Doug Ducey will announce on Tuesday that he's appointing former Sen. Jon Kyl to fill the Senate vacancy left by John McCain's Aug. 25 death, the Arizona Republic reported, an appointment that will give Republicans a critical vote they had been missing since McCain returned to Arizona in December for treatment.
"There is no one in Arizona more prepared to represent our state in the U.S. Senate than Jon Kyl," Ducey said in a statement, according to the Arizona Republic. "He understands how the Senate functions and will make an immediate and positive impact benefiting all Arizonans. I am deeply grateful to Sen. Kyl for agreeing to succeed his friend and college of so many years."
Arizona law requires the governor to select a successor from the same party as the senator who vacated the seat — meaning this seat was always going to remain in Republican hands until 2020, when a special election will be held coinciding with the regularly scheduled statewide election.
According to the Arizona Republic, Kyl only agreed to serve through the end of 2018. If Kyle chose to resign before 2020, the Arizona governor would then select another person to serve out the rest of the term.
Kyl is sure to give Republicans a reliable vote for GOP policies.
He served alongside McCain for nearly two decades before retiring in 2013, and served as senate minority whip during his service, making him a key Republican leader.
He voted against big Democratic priorities during his time in the Senate, including the Affordable Care Act, which he opposed because of the bill's coverage of essential health services such as maternity care.
Kyl also would provide a crucial for Republicans hoping to confirm Brett Kavanaugh to the Supreme Court. Kyl has helped Kavanaugh navigate the confirmation process.
After the announcement, Cindy McCain — the widow of the late Arizona senator — applauded Kyl's appointment.
"John Kyl is a dear friend of mine and John's," she tweeted. "It's a great tribute to John that he is prepared to go back into public service to help the state of Arizona."
Sept. 4, 2018 1:07 p.m.: This article has been updated.