No kids required: Universal Orlando's newest thrill rides are designed with grown-ups in mind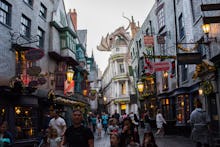 Get on any flight to Orlando, and you'll see a handful of telltale signs that you're headed to one of the top tourist hubs in the United States. First there's the number of children on board, likely wearing tiny backpacks emblazoned with cartoon characters and clutching a prized stuffed toy. Remove your headphones and you might hear a business traveler mention a conference they're extending for some downtime or an adult woman casually reference witchcraft.
"I've been practicing spells," the woman in the row ahead of me told her seatmate, adding that she was excited to buy her first wand to test them out. There was only one place she could be headed.
The Wizarding World of Harry Potter, located within Universal Orlando Resort, has attracted millions of visitors since it first opened in 2010. The Harry Potter land is now spread over Universal Studios Florida and Universal's Islands of Adventure, with sections inspired by Diagon Alley and Hogsmeade. Universal Orlando's combined attendance has increased 70% in the last decade, from 11.6 million to 19.7 million annual visitors, according to figures from the Themed Entertainment Association.
Universal has embraced these new visitors — and their tourism dollars — and used them as an impetus for massive growth, as well as a change in how their creative team approaches the development of new projects.
"The unique thing about Universal, literally in its timeline you can see a defined shift not only in the type of attractions and content in general that the park produced, but the growth that happened," Michael Aiello, senior director of entertainment creative development at Universal Orlando Resort, said in an interview. "There is a tentpole and a year where that occurred and it really was the Wizarding World." He added that Universal has added 25 new experiences, including attractions and other forms of entertainment, since the 2010 opening of the Harry Potter-themed land. "That sort of growth doesn't happen often or in a lot of places."
Universal has long been known to attract an older audience, and Harry Potter's broad appeal, especially among those in their 20s to early 30s who grew up reading the books, gave executives the green light to lean further into adult-focused entertainment. Special events like Halloween Horror Nights, recommended for ages 13 and up, have grown. This year's is the largest yet, bringing 10 terrifying haunted houses to the resort and five "scare zones," where in past years visitors have been chased by zombies or taunted by actors wielding chainsaws.
It's a stark contrast to Walt Disney World, where there are twice the number of rides with no height restrictions to entertain the park's pint-sized guests, and the fall event at the Magic Kingdom is called "Mickey's Not-So-Scary Halloween Party."
"We're known for skewing slightly older with the type of people we attract here at Universal Orlando," Aiello said. He started his career at Universal in 1996 as a tour guide on the Jaws attraction, which closed to make room for Diagon Alley. "Ever since I've been here, the ideology in our brain is we're kind of the cool older brother or sister," he added. "Not to say we won't create things that are specifically geared toward children, but if we can find things that do that as well, I think that's a stronger funnel to start thinking things through."
The development of the Wizarding World also gave Universal's creative team the opportunity to up the ante when it came to theme park design, thanks in part to author J.K. Rowling's reported oversight of the project. The effect spread throughout the resort, with richer details in areas like Springfield: Home of the Simpsons, where wishful residents can wash down their Krusty Burger with a Flaming Moe, or Volcano Bay, a 28-acre water park with designs inspired by the Polynesian islands, and even the nightscape environment at CityWalk, Universal's dining and entertainment complex, which feels like a nightclub after dark with live music, flashing neon lights and the East Coast's only Voodoo Doughnut location for your late-night cravings.
Some of Universal's newest attractions were clearly designed with an older crowd in mind. Earlier in 2018, Universal Studios Orlando introduced Fast & Furious — Supercharged, an attraction inviting visitors to "join the family" of the eight-film franchise for a street race after-party. Guests tour a garage full of tricked out cars from the films and hang out in the break room, where there's a nod to late actor Paul Walker, whose photo hangs on the wall. Riders then board a party bus, which is where things go sideways and Vin Diesel, reprising his role as Dom Toretto, ends up dangling from a helicopter in a massive gunfight. Another recently added attraction, Race Through New York Starring Jimmy Fallon, is housed in a replica of 30 Rockefeller Plaza and features a pre-show area where guests can meet Hashtag the Panda and tour an exhibit of memorabilia from past hosts of The Tonight Show. The ride's safety precautions are rapped by Tariq Trotter of the Roots in a prerecorded video.
Both of the attractions are theoretically child-friendly (with a 40-inch height requirement, the average 4-year-old can come along), but on a busy summer day I didn't spot a single person below voting age stopping to check out the jeweled turban Johnny Carson wore as Carnac the Magnificent, or pausing to look for movie references at a workstation in Dom's garage.
But Universal's year-round entertainment offering with the most mature subject matter wasn't inspired by a horror flick or action series; it came from within the Harry Potter canon. Several times a day in Diagon Alley, actors stage a performance of "The Tale of the Three Brothers," a story referenced in Harry Potter and the Deathly Hallows.
"Pitching a show about death that's going to run five or six times a day in broad daylight was a feat," Aiello said. "There isn't a theme park show in existence right now that is doing bunraku-style puppetry on a storyline that is about three brothers meeting death. But it's one of the highest-rated shows we do in our park, day in and day out."
On a recent visit to the Wizarding World, it was clear that it attracts visitors of all ages. More adults than children were spotted donning the long, black wizard robes sold in the gift shop, even on a 90-degree August day.
The immersive qualities of these lands draw fans in, Len Testa, creator of TouringPlans.com and co-author of The Unofficial Guide to Walt Disney World, said. An avid Disney fan, he didn't start following developments at Universal closely until the Wizarding World came along — and he wasn't even a Potterhead.
"I've never seen a Harry Potter movie, I've never read the books. It's not my thing," Testa said. "I spent six hours in Diagon Alley and loved every minute of it, even without knowing [the backstory], the detail is amazing."
Universal embraced a variety of technologies to make this possible, using projection mapping to create a nighttime light and pyrotechnics show on Hogwarts Castle, a system of infrared sensors and interactive wands to help guests cast spells, and old fashioned shadowplay to make it seem that Muggles aren't the only ones bustling around the Three Broomsticks Inn in Hogsmeade. (Look up and you might spot some house elves in the rafters.)
"They add another level of detail and interactivity you don't get from the media or the books. To be able to touch something is different than being able to watch it or read about it," Testa said. "It gives you the ability to be able to participate in the story."
There's more on the way, as Universal is currently building a new thrill ride in Hogsmeade that they've called "one of the most highly themed coaster experiences we've created." Outside of the Wizarding World, resort officials confirmed in late 2016 that a Nintendo-themed area is on the way, giving gamers something to get excited about. While construction has not yet begun in Orlando, a Super Nintendo World is underway at Universal Studios Japan and planned attractions like a Mario Kart ride could hint at what's on the way for U.S. audiences.
One thing's for sure: Universal isn't slowing down anytime soon.
"Knowing what I know about the next three to five years, our growth is going to exponentially increase," Aiello said. "It's a really amazing time to be in the themed entertainment industry right now."