Bill Cosby's Hollywood Walk of Fame star vandalized with the words "serial rapist"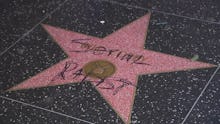 A vandal drew the words "serial rapist" on Bill Cosby's star at the Hollywood Walk of Fame, Los Angeles police reported Tuesday morning.
Authorities were informed of the scribblings, which were made with a black marker, around 5:30 a.m. Tuesday, according to the Los Angeles Times. The LAPD is investigating the incident; authorities have already removed the words from Cosby's star.
This isn't the first time The Cosby Show actor's star has been defaced.
A few days after the comedian was found guilty in April of sexually assaulting Andrea Constand, messages reading "Guilty on all 3 counts!" were found taped to Cosby's plaque.
Cosby was found guilty April 26 on three counts of aggravated indecent assault in a retrial. Constand had accused Cosby of drugging and sexually assaulting her at his home near Philadelphia in January 2004. The first trial ended with a hung jury in June 2017.
During the retrial, five additional women — Janice Dickinson, Lise-Lotte Lublin, Chelan Lasha, Heidi Thomas and Janice Baker-Kinney — gave testimony alleging Cosby had also drugged and sexually assaulted them.
The word "rapist" was written on Cosby's star three times in 2014 as multiple women came forward to accuse him of rape and sexual assault. In 2015, activists called for Cosby's star to be removed from the Walk of Fame. But the Hollywood Chamber of Commerce, the body that decides which celebrities are inducted into the Walk of Fame, said Cosby's star would remain in place.
"Once a star has been added to the Walk, it is considered a part of the historic fabric of the Hollywood Walk of Fame," Leron Gubler, the chamber's president and chief executive, said in 2015. "Because of this, we have never removed a star from the Walk."