Protesters dressed in 'Handmaid's Tale' costumes are waiting outside the Kavanaugh hearing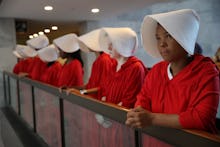 As lawmakers gathered Tuesday on Capitol Hill for the first day of Supreme Court nominee Brett Kavanaugh's confirmation hearings before the Senate Judiciary Committee, protesters clad in Handmaid's Tale garb lined the halls outside the hearing room.
The activists wore the signature red robes and white caps from Margaret Atwood's dystopian 1985 novel, which has enjoyed new popularity in recent years as an original television series on Hulu. Both the book and TV show explore an imagined future in which America has become an oppressive dictatorship where women have been stripped of their rights, existing only to bear children or work as domestic servants.
The Handmaid's Tale protesters belong to the advocacy group Demand Justice, the Hill reported. The organization said in a statement its members went to Capitol Hill as a show of dissent against what it called Kavanaugh's "anti-abortion, anti-health care and anti-women" views, calling the Trump nominee "an extremist ideologue who, if confirmed to the Supreme Court, will take away women's basic rights."
"Right now in America, far too many women of color cannot access safe, affordable health care, and the ability to decide whether, when and how to raise thriving families is out of reach," the group told the Hill. "Brett Kavanaugh will take this already harsh reality and make it worse."
Protesters dressed as handmaids have become a semi-regular sight in the wake of President Donald Trump's election. As the New York Times reported in 2017, Handmaid's Tale-inspired getups have been spotted at rallies and marches across the country — including in Columbus, Ohio, where protesters gathered in opposition to a bill to outlaw a common method of abortion in the state, and in Austin, Texas, where members of abortion rights group NARAL Pro-Choice America have worn the outfits to protest at the Texas State Capitol.
Tuesday's protesters attracted attention from journalists like PBS correspondent Lisa Desjardins, who posted a photo of the silent protest on Twitter. The Kavanaugh hearings are expected to last three to four days; it remains to be seen whether the handmaids will stay the course for the duration.