Ayanna Pressley ousts longtime Democrat in Massachusetts House primary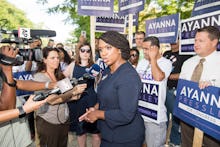 Boston City Councilwoman Ayanna Pressley won the Democratic primary Tuesday in Massachusetts' 7th Congressional District, ousting longtime Democratic Rep. Michael Capuano from the deep-blue, Boston-based district.
Capuano conceded to Pressley a little more than an hour after polls closed.
At the time of his concession, Pressley led Capuano 56.6% to 43.4% with 13% of precincts reporting, according to the New York Times.
Capuano is now the fourth House lawmaker to lose re-election in a 2018 midterm primary, following Rep. Robert Pittenger (R-N.C.), Rep. Mark Sanford (R-S.C.) and Rep. Joe Crowley (D-N.Y.).
Pressley will become the first black member of the House from Massachusetts, as there are no Republicans running in this district in the general election. Hillary Clinton carried the seat by a 71-point margin in 2016, making it one of the most heavily Democratic House seats in the country.
Pressley defeated Capuano by arguing that it was time for a change in representation in the district.
She enjoyed a boost in the race's final weeks thanks to endorsements from both Massachusetts Attorney General Maura Healey — who has made a name for herself by suing the Trump administration — as well as the Boston Globe, the state's paper of record.
The Boston Globe brought up the fact that Pressley — a woman of color — represents a new generation of Democratic leaders.
"Voters might be hesitant to move on from Capuano after his years of experience and the seniority he has accumulated in Congress," the Boston Globe editorial board wrote. "But Pressley is a proven advocate with an understanding of the needs of the district, and she would be a fresh voice in Congress. Pressley represents the present of the 7th District and the future of the Democratic Party. She will serve the district well in Congress."