Brett Kavanaugh refused to shake the hand of a gun violence victim's father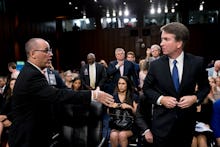 As Supreme Court nominee Brett Kavanaugh's Senate confirmation hearing prepared to recess for lunch on Tuesday afternoon, Fred Guttenberg approached the embattled judge, hand outstretched, and introduced himself as the father of one of the teenaged victims of the February mass shooting in Parkland, Florida. Kavanaugh declined to shake.
In video footage captured during Tuesday's Senate proceedings, Guttenberg can be heard introducing himself to Kavanaugh. "My daughter was murdered in Parkland..." he says as the Supreme Court nominee swiftly turns on his heel.
Last February, Guttenberg's daughter, Jaime, became one of 17 students and faculty members killed after a 19-year-old gunman stormed Marjory Stoneman Douglas High School in Parkland, Florida, and opened fire. Since then, Guttenberg has been an outspoken activist working to eliminate American gun violence, challenging Florida Sen. Marco Rubio over his position on guns and ardently criticizing the National Rifle Association for its lobbying and advertising practices.
Kavanaugh's Tuesday snub of a notable gun safety advocate comes amid intense scrutiny over his own voting history on key gun safety issues. On Monday night, Senator Bob Menendez (D-N.J.) took to Twitter to highlight Kavanaugh's voting record on banning assault weapons and the creation of a firearm registry in Washington, D.C., in particular.
"Brett Kavanaugh argued that we can't ban assault weapons because they're 'in common use' by gun owners," Menedez wrote. "Well yes, they are in common use — in Orlando and Las Vegas and Newtown and Parkland, and that common use is exactly why we should #BanAssaulltWeapons and #StopKavanaugh."
And aside from his record on gun issues, Kavanaugh's confirmation hearings are already being dogged by controversy stemming from the possibility that he will vote to overturn the reproductive protections enshrined in the landmark Roe v. Wade ruling — and also from Republicans' reluctance to release thousands of pages of pertinent documents on Kavanaugh for senators to review in a timely fashion.
On Tuesday, Sen. Patrick Leahy (D-Vt.) — the most senior member of the Senate — said that Kavanaugh's entire confirmation process amounted to a "sham."
"Nothing about this is normal," Leahy said. "Today, the Senate is not simply phoning in our vetting obligation — we're discarding it. It's not only shameful — it's a sham."
"I never thought the committee would sink to this," he added.