LA district attorney declines to charge Kevin Spacey, Anthony Anderson or Steven Seagal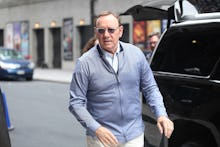 The Los Angeles County District Attorney's office said Tuesday it would not bring sex crime charges against actors Kevin Spacey, Anthony Anderson and Steven Seagal, the Hollywood Reporter reported Tuesday.
The statute of limitations reportedly passed in the Spacey and Seagal cases, whereas Anderson's accuser "refused to cooperate with investigators," according to Variety.
Spacey, who has been publicly accused of sexual misconduct by multiple men — some of whom said they were minors when the alleged incidents occurred — is also under investigation by London Metropolitan Police for a series of alleged incidents in the U.K., the Los Angeles Times reported in July.
The LA district attorney's office declined to file charges against Spacey in relation to a specific 1992 allegation of "forcible sodomy," Variety reported.
The accusation against Seagal, who has faced multiple allegations of sexual misconduct over the years, stemmed from an alleged sexual assault in 1993, the statute of limitations for which reportedly expired in 1999.
Anderson, star of ABC's Black-ish, was accused of sexual assault earlier in 2018, according to Variety. USA Today reported in July that the LAPD was investigating Anderson for an incident that allegedly took place at an event the actor hosted "more than a year ago." However, the LA district attorney's office decided not to file charges after she "declined to be interviewed by the investigating officer."
The LA County DA's office, which announced a new sexual assault task force in 2017, reportedly has "one more case to review involving Seagal" as well as another involving Spacey.