Facebook's COO and Twitter's CEO will face Congress on Wednesday. Here's what to expect.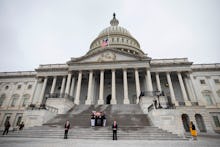 Top executives at two of the world's biggest social media sites — Facebook COO Sheryl Sandberg and Twitter CEO Jack Dorsey — will testify Wednesday before the Senate Intelligence Committee about the 2016 presidential election and other issues that have bubbled up in recent months.
It's been a rough year for social media giants Facebook and Twitter, the former of which has faced repeated accusations of helping spread misinformation. Meanwhile, Twitter has found itself in hot water over how it handles conservative voices on the site.
Here's what we can expect.
How did Russia interfere in the 2016 election on social media?
According to the Washington Post, Wednesday's proceedings will address Russian involvement in the 2016 presidential election. Facebook initially denied fake news on its platform had any effect on election results, but eventually admitted it was "late on fake news and election interference."
Twitter, for its part, said in January more than 1 million users had interacted with Russian bots leading up to the election. For some legislators, the goal for Wednesday's proceedings is to help keep such interference top of mind moving forward.
"[The goal is] to sound the alarm that what happened in 2016, as we've seen, was not a one-off," Sen. Mark Warner (D-Va.) told the Washington Post. "While the companies have gotten better and the government's gotten better, the adversaries have gotten better, too."
Does Twitter censor conservative voices?
Following the Senate hearing, Dorsey will head to the House Committee on Energy and Commerce to further address the role of Russian bots on Twitter and to address allegations the platform silences conservative users.
In a written statement to the committee, Dorsey said Twitter doesn't ban people based on their political leanings.
"Twitter does not use political ideology to make any decisions, whether related to ranking content on our service or how we enforce our rules," Dorsey said. "We do not shadowban anyone based on political ideology. In fact, from a simple business perspective and to serve the public conversation, Twitter is incentivized to keep all voices on the platform."
Where's Google?
Larry Page, CEO of Google parent company Alphabet, was invited to Capitol Hill to testify on similar issues but will not attend the hearings. This continues Page's inexplicable absence in ongoing discussions on data privacy.
The company instead offered to send Kent Walker, Google's senior vice president of global affairs and chief legal officer, but the Senate Intelligence Committee declined to hear Walker's testimony, Deadline reported. Walker will still visit Washington, D.C., to share written testimony and to meet with lawmakers.
Sandberg and Dorsey's Senate testimonies will stream live on C-SPAN beginning at 9:30 a.m. Eastern. Video of Dorsey's testimony to House lawmakers will stream on YouTube starting at 1:30 p.m. Eastern.