White House claims Woodward "fabricated stories" to make Trump "look bad"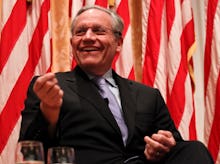 The White House on Tuesday pushed back on Bob Woodward's account of the administration's "nervous breakdown," claiming the legendary journalist's upcoming book is full of "fabricated stories" designed to smear President Donald Trump.
"President Trump has broken through the bureaucratic process to deliver unprecedented successes for the American people," press secretary Sarah Huckabee Sanders said in a statement Tuesday. "Sometimes it is unconventional, but he always gets results."
The statement came as anecdotes from Woodward's upcoming book, Fear: Trump in the White House, began to surface in media reports.
The book, due for release Sept. 11, is expected to paint Trump as an unhinged, unqualified leader whose own senior aides regard him as a potential threat to national security. In excerpts published Tuesday in the Washington Post, CNN and elsewhere, the administration is portrayed as even more dysfunctional than previously known, and the president is described as being constantly in conflict with top members of his administration, who regard him as an "idiot."
"It's pointless to try to convince him of anything," chief of staff John Kelly said during a meeting, Woodward reported, according to the Post. "He's gone off the rails. We're in Crazytown. I don't even know why any of us are here. This is the worst job I've ever had."
The book also depicts people close to Trump expressing concern that he could end up in "an orange jump suit" if he testifies in the Russia probe, as former Trump attorney John Dowd reportedly put it, and the president lashing out at top allies, including Attorney General Jeff Sessions, whom he reportedly described as "mentally retarded."
"He's this dumb Southerner," Trump reportedly told former staff secretary Rob Porter of Sessions. "He couldn't even be a one-person country lawyer down in Alabama."
But the White House challenged the account, with Sanders claiming the sources were mostly "former disgruntled employees."
Some of those quoted in the forthcoming book, including Kelly and Dowd, also challenged Woodward's reporting in statements on Tuesday.
But Carl Bernstein, whose Pulitzer Prize-winning reporting on the Watergate scandal with Woodward led to Richard Nixon's resignation in 1974, defended his colleague's reporting during an appearance on CNN on Tuesday.
"It is time for the Republicans to say, 'The Trump presidency is a national emergency,'" Bernstein said.
Woodward, an associate editor at the Post, also released a recording of a conversation he had with Trump, in which the president acknowledged having been told of an interview request — despite Trump claiming that he was unaware of it.
Woodward's book is just the latest inside account of the White House to rattle the Trump administration. Journalist Michael Wolff's Fire and Fury, which was released in January, also depicted a chaotic administration presided over by a reckless, infantile Trump. Omarosa Manigault-Newman, a former Apprentice contestant who served in the Trump administration, made a number of bombshell claims in her White House tell-all, including that staffers were aware of tapes in which the president could be heard using racial slurs.
This latest book could be even more explosive, with the legendary investigative reporter detailing how administration officials keep information from the president in the interest of national security.
It also includes episodes in which Trump is quoted as lashing out against top allies, including Rudy Giuliani, whom he reportedly described as a "little baby."
As of Tuesday afternoon, Trump himself had not directly responded publicly to Woodward's explosive claims, but decried the "fake books" that have been written about him in a tweet last week. He also described Bernstein, who with Woodward is one of the most towering figures in American journalism, as "sloppy."