Mic Daily: Brett Kavanaugh snubs the father of a Parkland student — and other stories of the day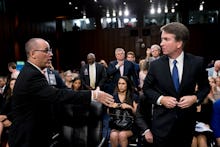 Welcome to Mic Daily: Mic's newsletter that cuts through the noise and lands in your inbox every weekday. We carefully curate each edition to send you a cross section of our most vital stories of the day.
Want more entertainment news in your inbox? Sign up for Hype Daily — Mic's morning entertainment roundup. It's got all the news you need to start your day.
Beyoncé Giselle Knowles-Carter turned 37 on Tuesday. Mic contributor Michael Arceneaux is marking the occasion thusly: "I get down on my knees, place my hands on them and pop it, pop it, pop it for my lord and gyrator."
As Supreme Court nominee Brett Kavanaugh's Senate confirmation hearing prepared to recess for lunch Tuesday, Fred Guttenberg approached the judge, hand outstretched, and introduced himself as the father of a Marjory Stoneman Douglas High School shooting victim.
Kavanaugh said nothing and turned away.
As lawmakers gathered Tuesday on Capitol Hill for the first day of Supreme Court nominee Brett Kavanaugh's confirmation hearings before the Senate Judiciary Committee, protesters clad in Handmaid's Tale garb lined the halls outside the hearing room.
Close your eyes and picture "hospital food." What do you see? Historically, it's probably been a beige tray with a serving of Jello, maybe some saltine crackers, some overcooked vegetables and a few slices of processed deli meat.
As hospitals realize the impact a good meal can have — not just nutritionally, but psychologically and emotionally — that's changing.
Two black transgender women were killed Aug. 30 in separate cities — one in Shreveport, Louisiana, and one in Chicago.
Eighteen-year-old Vontashia Bell was fatally shot in Shreveport early Thursday morning, according to the Advocate. She was found around 4:30 a.m. and taken to a nearby hospital, where she was pronounced dead. Local outlet the Shreveport Times reported on her death but misgendered and "deadnamed" her, meaning it referred to Bell by her birth name.
Just hours after Bell was killed, 24-year-old Dejanay Stanton was found with a fatal gunshot wound in Chicago's Bronzeville neighborhood.