Hype Daily: Support floods in for Geoffrey Owens — and more entertainment news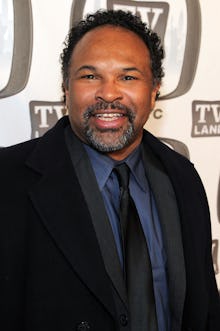 Welcome to Hype Daily, Mic's morning entertainment roundup. Here's everything you need to catch up on in the entertainment world and what to look forward to today. Want to receive this as a daily email in your inbox? Subscribe here.
Good morning loyal followers, and happy Wednesday! Time to take a refreshing dive into the latest entertainment news.
A bunch of good things have happened to actor Geoffrey Owens since that photo of him working at Trader Joe's
Over the weekend, social media blew up after a series of job-shamey headlines about former Cosby Show actor Geoffrey Owens, who was recently spotted working at a Trader Joe's in New Jersey. Well, if the customer who snapped the original photo of Owens bagging groceries intended to embarrass him, that totally backfired.
Support came flooding in for Owens from fellow actors like Terry Crews and Blair Underwood. He landed a Tuesday interview on ABC's Good Morning America, where told the hosts, "There is no job that's better than another. ... It may pay better, it may have better benefits, it may look better on paper. But it's not better. Every job is worthwhile."
And mega-producer Tyler Perry even tweeted a job offer at Owens, telling him, "I'm about to start shootings OWN's number one drama next week! Come join us!!! I have so much respect for people who hustle between gigs. The measure of a true artist." I don't know if Owens said yes to that offer, but now we know it's on the table. Congrats!
NBC is planning a new Law & Order spinoff about hate crimes
Law & Order is the franchise that can never be killed — just when you think Law & Order: SVU is the last remaining pillar, Dick Wolf pulls a stunt like this. NBC announced on Tuesday that it will launch a new series called Law & Order: Hate Crimes that will explore, well, hate crimes.
Considering SVU's sometimes cringey approach to tackling "ripped-from-the-headlines" stories, it's understandable that fans might feel a little apprehensive about a hate crimes spinoff. Maybe it's best to take a "wait and see" approach with this new series.
Piper Perabo was arrested while protesting at Brett Kavanaugh's confirmation hearing
Actor Piper Perabo of Covert Affairs (but you might know her from her breakout role in Coyote Ugly) was arrested on Tuesday for protesting during the first day of Supreme Court Nominee Brett Kavanaugh's confirmation hearings.
As USA Today reported, Perabo, an activist in addition to being an actor, posted a video that showed her and several other protestors being escorted out of the hearing room by authorities after interrupting the hearing to urge senators to vote no on Kavanaugh.
Along with the video, Perabo tweeted, "I was just arrested for civil disobedience in the Kavanaugh hearings. Many citizens before me have fought for the equal rights of women. I can't be silent when someone is nominated to the Supreme Court who would take our equal rights away."
Serena Williams is moving on at the U.S. Open
Okay, I know sports news isn't technically in our purview here and I may not actually understand how tennis tournaments work, but let's celebrate Serena Williams! On Tuesday night, Williams beat Czech player Karolína Pliskova to advance to the semifinals of the U.S. Open.
As CBS Sports reported, she and Madison Keys are now the only two American women left standing. All this while wearing a tutu — possibly a message to the French Open, which recently said it will institute a dress code that would ban Williams' catsuit outfit. France, if you're trying to stop Serena Williams, you can't.
Put this on your radar: Sierra Burgess Is a Loser
Fresh off the heels of their teen rom-com To All the Boys I've Loved Before, Netflix is dropping their new original film Sierra Burgess Is a Loser on Friday. An updated, high school spin on the Cyrano de Bergerac story, the movie stars Shannon Purser of Stranger Things as a band geek who uses her own words but someone else's looks to land a high school hottie. Sound predictable? Of course it does, but that's what makes rom-coms great.
Plus, it stars Noah Centineo, aka Peter from To All the Boys I've Loved Before as said high school hottie. Check out a trailer here.