Today in Trump's America: Kavanaugh hearings head into second day despite protest from Dems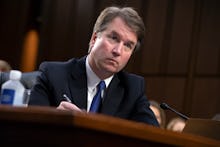 Welcome to Mic's daily read on Donald Trump's America. Want to receive this as a daily email in your inbox? Subscribe here.
Good morning from Emily Singer at Mic.
Here's what's happening in Trump's America:
• Trump's day begins at 11:30 a.m. with his daily intelligence briefing.
About last night: Black Democrat makes history in Massachusetts
It was another history-making election night, as Boston City Council member Ayanna Pressley defeated longtime Democratic Rep. Michael Capuano in a primary — setting herself up to be the first black person elected to the House from Massachusetts.
Pressley didn't just defeat Capuano — she crushed him, winning by an 18-point margin, despite the fact that no public polls in the race had her ahead.
Pressley is now assured to become the next member of Congress from the state's 7th District — one of the most Democratic in the country — as there is no Republican running in November.
While some will portray Pressley's win as another win for the progressive left, it's not that clear cut. Capuano himself is very progressive, and the two didn't have many policy differences.
Instead, Pressley and her allies painted her as a fresh face for a rapidly changing party, whose base voters look much more like Pressley (a 44-year-old woman of color) than Capuano (a 66-year-old white man).
The Boston Globe, which endorsed Pressley's bid — possibly giving her a boost in the final days of the race — made that very point in its enthusiastic endorsement of her candidacy.
"Voters might be hesitant to move on from Capuano after his years of experience and the seniority he has accumulated in Congress," the Boston Globe editorial board wrote. "But Pressley is a proven advocate with an understanding of the needs of the district, and she would be a fresh voice in Congress. Pressley represents the present of the 7th District and the future of the Democratic Party. She will serve the district well in Congress."
Pressley is not the first history-making candidate in New England: Jahana Hayes is also likely to become the first black person elected to Congress from Connecticut in November.
Today in Trump's America: Kavanaugh hearings begin for a second day
Hearings for Trump's Supreme Court nominee Brett Kavanaugh got off to a rocky start on Tuesday, as Democrats moved to postpone the hearings in order to read tens of thousands of documents Republicans had released about Kavanaugh's career the night before the hearings began.
Republicans argued that they've released more documents than most previous SCOTUS nominees. Democrats pointed out that the volume is misleading, as the documents Republicans have made public are only a small fraction of those Kavanaugh has amassed throughout his professional life.
"What is the administration afraid of showing the American people? What is it trying to hide?" Sen. Richard Blumenthal (D-Conn.) said at the start of the hearing.
Nevertheless, the hearings proceeded, with senators on the Judiciary Committee making their opening statements. Democrats brought up concerns with Kavanaugh's views on abortion rights, voting rights and money in politics — questions that Kavanaugh will now face as senators begin to grill him on his record and judicial views.
Republican Sen. Jeff Flake of Arizona also brought up concerns about Trump's view of executive power, and said he will be asking Kavanaugh to make clear his views on executive overreach.
Despite the theatrics of the hearings, it's almost certain that Kavanaugh will be confirmed. Republicans will gain another vote when Sen. John McCain's replacement is sworn in. And thus far no Republicans have said they will vote against Kavanaugh's nomination — which would be enough to let him eke through to a lifetime appointment on the country's highest court.
Capitol Hill happenings: Republicans seek to avoid a shutdown in final weeks of the midterms
Funding for the government runs out at midnight on Sept. 30, and Republicans are rushing to come up with a deal that prevents a shutdown in the home stretch of the midterm elections.
Trump, however, is complicating Republican negotiations, demanding funding for his border wall with Mexico — which he once said Mexico would pay for.
Republicans shutting down the government a month before the midterm elections over Trump's unpopular border wall would further imperil the GOP House majority, which already hangs by a thread thanks to Trump's unpopularity.
GOP leaders are meeting with Trump on Wednesday to try and convince Trump not to shut down the government, according to Politico.
It remains to be seen if they can convince Trump to keep the government open. And, if they do convince him, whether that decision sticks — as Trump is known to change his mind based on the last person who he speaks to.
And the rest…
McCain replacement selected: The Arizona governor appointed former Sen. Jon Kyl to fill the seat vacated by the late Sen. John McCain. Kyl served as a member of Senate Republican leadership during his many years in Congress, and has been guiding Kavanaugh through the confirmation process — meaning he's assured to give Republicans another vote to confirm Trump's Supreme Court pick. Speculation also abounds that if Rep. Martha McSally, the GOP Senate nominee vying to replace retiring Sen. Jeff Flake, loses her Senate bid in November, Kyl would resign to allow the Arizona governor to then appoint McSally to the seat.
Bob Woodward rocks the White House: The legendary journalist who helped take down former President Richard Nixon will soon release a book on the Trump White House — a meticulously sourced piece of work that portrays an administration that views Trump as an incompetent child that they need to stop from creating world crises. A handful of reporters got their hands on copies of the yet-to-be-released book, which held stories of cabinet officials stealing documents off Trump's desk without him knowing to prevent Trump from ending trade deals. In one anecdote in the book, Defense Secretary James Mattis defies orders to assassinate Syrian President Bashar Assad. The White House is already trying to portray the book as fake news, but Woodward has tapes and records from his interviews, which makes it harder for the White House to knock down the book's claims.