UK charges two Russian nationals over Skripal nerve agent attack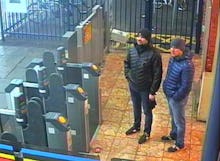 Alexander Petrov and Ruslan Boshirov have been charged in absentia for the March nerve agent attack on former Russian double agent Sergei Skripal and his daughter, authorities in the United Kingdom announced Wednesday.
The Crown Prosecution Service is charging the two Russian nationals said to have carried out the attack with conspiracy to murder Skripal; the attempted murder of Skripal, Yulia Skripal and police officer Nick Bailey; use and possession of the nerve agents known as "Novichok," contrary to the Chemical Weapons Act; and causing bodily harm to Yulia Skripal and Bailey.
The Skripals and Bailey all survived the attack.
Authorities are not currently seeking the extradition of Petrov and Boshirov, CPS director of legal services Sue Hemming said Wednesday, "as the Russian constitution does not permit extradition of its own nationals." But, Hemming said, "an extradition request would be made" if that law changes.
Skripal and his daughter, Yulia, were found unconscious on a park bench in a Salisburgy, England, mall in March.
The two had been poisoned using the nerve agent Novichok, British authorities concluded.
Skripal, a former Russian double agent, had been sentenced to 13 years in prison in Russia in 2006 for identifying Kremlin spies to British intelligence. He was released in a 2010 spy exchange between the U.K. and Russia.
Britain concluded Russia was behind the March attack and expelled Russian diplomats from the country in retaliation, but the Kremlin has denied involvement.
Segei and Yulia Skripal were released from the hospital in May and April, respectively. Bailey, a police officer who was poisoned during the course of the investigation, was released from the hospital later in March.
The attack heightened tensions between Russia and the West.
The United States and Russia booted officials from their respective countries in tit-for-tat diplomat expulsions, and the Trump administration in August announced a new wave of sanctions against the Kremlin over the Novichok attack.
The charges against Petrov and Boshirov come after a "complex" investigation in which British authorities concluded that the pair smuggled the deadly nerve agent into the country in a perfume bottle and applied it to the front door of Skripal's home.
The bottle was found this summer by a 48-year-old local man, who was hospitalized after being exposed to the Novichok, and his 44-year-old girlfriend, who died after being exposed to the poison.
Authorities did not say if Petrov and Boshirov are Russian intelligence agents, but noted that they had carried out a "sophisticated attack across borders."
While CPS is not currently asking Russia to extradite the two nationals, authorities have filed a European Arrest Warrant and the pair could face arrest and extradition if they enter a country where the EAW is valid.