Jack Dorsey read his opening statement to Congress off his phone, right before tweeting it out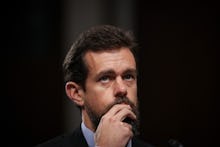 Twitter CEO Jack Dorsey and Facebook COO Sheryl Sandberg visited Congress on Wednesday to discuss misinformation on their platforms and censorship of users. While Chairman Richard Burr, Vice Chairman Mark Warner and Sandberg read their prepared statements on paper, Dorsey read his statements from his iPhone X.
"If it's okay with all of you, I'd like to read you something I personally wrote as I consider these issues," Dorsey said at the start of the hearing. "I'm also going to tweet this out now."
Dorsey's opening statement addressed one of the biggest dilemmas the social media company has faced in recent years: the balancing act between offering an open platform for discussion while also eliminating speech deemed hateful and abusive.
Both Dorsey and Sandberg reiterated their companies' stances on protecting user privacy and the measures they've put in place to protect against the spreading of false information and accounts run by bots that pose as human.
Some senators at the hearing noted Google's missing presence during the congressional hearing. After it was mentioned at the start of the hearing, Sen. Marco Rubio brought it up once again.
"There's an empty chair here from Google today, maybe it's because they're arrogant," Rubio said. The Florida senator then pointed to a recent BuzzFeed News report as to why Google's co-founder, Larry Page, chose to sit the meeting out — opting instead to offer to send Kent Walker, senior vice president of global affairs and chief legal officer. The panel, however, refused because Walker was not high-ranking enough, Bloomberg reported. The report also revealed that researchers posed as Kremlin-linked trolls and bought ads via Google that were shown on various publications' websites.
The Twitter CEO will have another Senate hearing with the Department of Energy and Commerce at 1:30 p.m. Eastern.