The new 'House of Cards' teaser makes it official: Frank Underwood is dead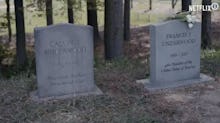 Netflix has released a new teaser for the upcoming season of its original drama House of Cards, and the clip reveals how the show will handle the dismissal of former star Kevin Spacey: The show's writers have decided to kill Frank Underwood. Shared on Wednesday, the teaser features Claire Underwood, as played by Robin Wright, visiting what is very clearly the grave of her husband Frank, who was played for the first five seasons by Spacey.
The most recent season of House of Cards ended with Frank resigning the presidency and Claire taking over, then seeming to double-cross Frank, whom she had promised to pardon. Presumably, the sixth and final season will include some explaining as to how we got from there to Frank's gravesite.
The show faced an uncertain future last fall, after actor Anthony Rapp went public with his allegation that Spacey had made a sexual advance toward him in 1986, when Spacey was 26 and Rapp was just 14. More public allegations against Spacey followed, and in October, Netflix announced it was suspending production of House of Cards.
Then in December, the streaming giant said it planned to continue the show for a final season, focusing on President Claire Underwood. Back in July, Wright spoke to NBC's Today about taking the lead on House of Cards and coming to terms with the allegations against her former coster.
"I think we were all surprised, of course, and ultimately saddened," Wright told host Savannah Guthrie. "Kevin and I knew each other between 'action' and 'cut,' and in between setups where we would giggle. I didn't know the man."
The new season of House of Cards drops on Netflix on Nov. 2, just before the midterm elections.