Kim Kardashian West is meeting with Trump to discuss freeing another nonviolent drug offender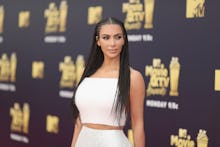 On Wednesday morning, Kim Kardashian West arrived at the White House ready to fight for a nonviolent drug offender's freedom for the second time.
The man in question is reportedly 30-year-old Chris Young, who is approaching his 10th year served on a life sentence for cocaine and marijuana possession in Tennessee.
In May, Mic documented Kardashian West's journey to secure a presidential pardon for 63-year-old Alice Marie Johnson, who was also serving a life sentence for a first-time, nonviolent drug offense. President Donald Trump subsequently granted clemency for Johnson, and days later, Johnson walked free.
Since then, Kardashian West has said that passionate about helping to bring prison reform legislation to fruition at the federal level. In a snippet of Jason Flom's Wrongful Conviction podcast obtained by TMZ, Kardashian West shed light on why she chose Young's case as her next to champion:
When I was talking to Chris Young, who's in prison [and] has sickle cell anemia ... he's had to have a few surgeries and he's been in a medical facility for a few years, and he goes back into the maximum-security prison where lifers have to go. And he's had a perfect record. ... He was saying, "I can stay out of trouble in here, but going in there there's stabbings, there's this. And if you're near that you can get in trouble so easily." ... He just didn't want to get caught up in a situation that had nothing to do with him, but could very much have.
Kardashian West also explains in the excerpt that in May Trump was more than responsive to her request after the two sat down to discuss Johnson's pardon in person last spring.
"I spoke to the president. ... He let me know what was going to happen [with Johnson] and he was going to sign the papers right then and there, and she could be released that day," Kardashian West said. "I didn't know, does that happen right away? Is there a process? What is it? So he was going to let her go. He told me she can leave today."
Trump has seemed receptive to Kardashian West's visits to the White House, at least partly because he believes that she and her husband, rapper Kanye West, have helped to boost his approval rating within the black community. After West tweeted his fervent support for Trump back in April, professing that the president is his brother and has "dragon energy," Trump responded by tweeting, "Thank you Kanye, very cool!"