Update: 10 Emirates flight passengers tested positive for the flu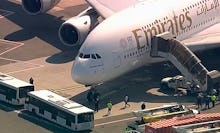 On Wednesday, NBC News reported an Emirates flight arriving from Dubai and landing in John F. Kennedy International Airport in New York City was quarantined after many passengers reported feeling sick.
On Thursday morning, press secretary for Mayor Bill de Blasio Eric Phillips tweeted that test results for the 10 hospitalized passengers confirmed influenza, while some results for other viruses tested returned inconclusive. The passengers will remain in the hospital as a precaution and tests will be re-administered today.
In a statement Wednesday, Emirates confirmed "about 10 passengers" were taken ill, and as a precaution, were attended to by local health authorities. NBC first reported that 100 passengers felt sick, but Emirates later estimated a much lower number.
Emirates flight 203 arrived at JFK from Dubai and was taken to a staging area, where the Centers for Disease Control and Prevention and Port Authority Police awaited its arrival.
Phillips tweeted Wednesday morning that the mayor received a preliminary briefing and the plane was quarantined.
Larry Coben, an unconfirmed passenger on the flight, was tweeting his experience at around 11 a.m. and has since deplaned.
All passengers were deplaned as of 12:34 p.m., according to Phillips. He wrote that 19 passengers in total are sick, 10 have gone to a hospital and nine refused medical attention.
In a second statement, Emirates confirmed all passengers have disembarked from the flight. Three passengers and seven crew members were transferred to a hospital.
Sept. 6, 2018, 9:58 a.m.: This story has been updated.