Kanye West apologizes to Drake: "I did not have any conversations about your child with Pusha"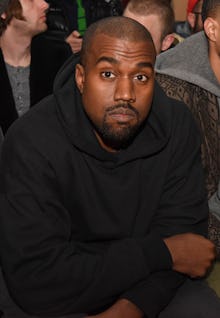 Kanye West's apology tour continues. In a series of tweets issued on Wednesday morning, West tried to make amends with Drake for being involved in any "negative energy" aimed at the rap superstar. The plea came after weeks of friction between the two rappers, which also involved West's label president, rapper Pusha T.
"Sending good energy and love to Drake and family and crew," West wrote initially, before praising the tour set design for Drake's current tour with Migos, Aubrey and the Three Amigos. "I haven't seen the show in person but the images look incredible online ... I understand where the confusion started."
West then apologized to Drake for "stepping on your release date." Back in April, West announced he would be rolling out his latest album Ye in June. During this time, Drake was also prepping the release of his newest studio album, Scorpion, which was released on June 29.
In a subsequent tweet, West stated that he should have featured Drake on "Lift Yourself," a one-off single he released on April 27, which wasn't featured on Ye.
"I should have given you the opportunity for us to do this together before I released it," West wrote.
West also addressed the biggest issue between the two frenemies — the much-talked-about feud between Drake and Pusha T, who's been a longtime associate of West's. Specifically, West referenced the lyrics on Pusha T's recent song "Infrared," which West himself produced. On the track, which closes Pusha's Daytona album, Pusha took a shot at the well-known accusations that Drake uses ghost-writers for his songs. Drake quickly responded with a diss track of his own, called "Duppy Freestyle." In response to that, Pusha fired off the already-legendary follow-up "Story of Adidon," which accused Drake of "hiding a child" from the public.
"There should have been no songs with my involvement that had any negative energy towards you," West expressed.
West also said that he hasn't listened to the diss tracks released by Pusha and Drake, but that he was aware that Pusha brought Drake's son into the mix — a move West apparently doesn't approve of.
"I did not have any conversations about your child with Pusha. I don't play with the idea of people's children after I spoke to Wiz a few years earlier," he tweeted, referencing a previous Twitter war he engaged in with rapper Wiz Khalifa in 2016, over a tweet West thought referenced his wife, Kim Kardashian West.
West ended is stream of messages by sending more love to both Pusha and Drake and promised to be in the crowd for one of Drake's forthcoming tour dates.
"This is all Jedi level. I will be coming to your show within the next seven days to give love and be inspired by the art you have created."
This all follows another public apology from West, who, in a recent radio interview, expressed regret over his infamous remark that slavery was "a choice," and over his decision to rub his Trump support in his fans' faces. If West is really looking to make amends and win back some supporters, this probably won't be his last apology for the year.