'Serial' season 3: The hit podcast is back, and this time it's focusing on the Cleveland courts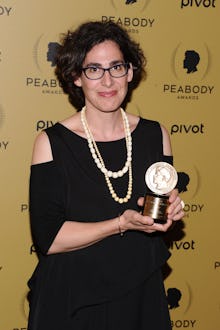 On Wednesday morning, the team behind the hit podcast Serial announced an upcoming third season, set to premiere Sept. 20, and dropped a new audio trailer teasing the new episodes. Season three of the show will focus on Cleveland's courts, and will follow "ordinary cases" as they move through the city's justice system, Variety reported on Wednesday.
"Season three is very close to my heart," Serial host Sarah Koenig told Elle in an interview published Wednesday. "The stories are really good, and we're really excited to tell them to people. Then again… if you're looking for a murder mystery, this is not it."
Season one of Serial, which premiered in 2014, from some of the makers of the NPR show This American Life, was a podcasting sensation. It followed the story of Adnan Syed, who was arrested, tried and convicted for the 1999 murder of his classmate and ex-girlfriend Hae Min Lee.
Syed was just 17 when he was given a life sentence, and the first season of Serial dissected Maryland's case against Syed, raising questions about some of the evidence used against him. (In March, a judge upheld a court decision to grant Syed a new trial.)
The second season of Serial, which premiered in 2015, focused on the case of former U.S. soldier Bowe Bergdahl, who left his post in Afghanistan, was held captive by the Taliban for years and was later charged with desertion. The second season of Serial was somewhat less of a sensation than the first — as the Guardian put it in 2016, "It was a well-reported element of an important story, but for listeners hoping for a follow-up to Serial's blockbuster first season, it came across as, well, boring."
Nonetheless, Serial is still a big name in the ever-expanding world of podcasting, and has been downloaded more than 340 million times, according to Elle. It also became the first podcast to win the prestigious Peabody Award. Whether season three will prove to be another megahit or just a success remains to be seen — we'll know more later this month. The first two episodes of Serial's season three will premiere on Sept. 20, followed by new episodes each Thursday.