Judge denies Paul Manafort's request to move second trial from Washington to Virginia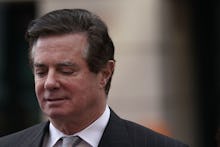 A federal judge on Wednesday dismissed a motion by Paul Manafort to have his trial moved from Washington, D.C., to Virginia, according to media reports.
Manafort, President Donald Trump's former campaign chairman, had sought to have his second trial moved to Roanoke, Virginia, because he believes jurors in the district may be biased against him. But on Wednesday morning Judge Amy Berman Jackson ruled against Manafort, deciding that the case would be tried in Washington on Sept. 24 as planned.
Manafort, 69, was convicted on bank and financial fraud charges stemming from special counsel Robert Mueller's Russia investigation in Alexandria, Virginia, in August.
A jury of six men and six women found him guilty on eight of the 18 counts against him, even though at least one of the jurors has told the media that she is a Trump supporter who regards the Mueller probe as a "witch hunt" — the president's term for the FBI inquiry.
"I wanted Paul Manafort to be innocent, but he wasn't," juror Paula Duncan told NBC News in August.
Manafort's second trial will focus on money laundering, conspiracy and obstruction of justice — charges more directly related to the main thrust of the Mueller probe. He and his longtime associate, Rick Gates, were indicted by Mueller in October 2017. Gates flipped in February 2018 and was the prosecution's star witness in Manafort's first trial.
Manafort's defense, which in August sought to undermine Gates' credibility, will not be allowed to question him about his marital infidelity because it isn't relevant, Jackson also ruled Wednesday. Additionally, the judge is restricting the defense team's ability to argue that Manafort's prosecution is the result of political bias against Trump.
Both the prosecution and defense will be barred from discussing alleged collusion between the Trump campaign and the Kremlin.
Trump has repeatedly denied that his campaign conspired with the Russians to interfere in the 2016 election. The president has also denied that he has attempted to obstruct the ongoing FBI investigation. While he's maintained that the Manafort case has nothing to do with him, he expressed sympathy for his "brave" former campaign manager, while Trump's lawyer Rudy Giuliani has hinted that the president may attempt to pardon him.
Jackson's decision Wednesday is the latest ruling against Manafort. In August, Judge T.S. Ellis denied a motion by the defense to acquit the former Trump campaign manager. In April, Jackson threw out a lawsuit by Manafort challenging the special counsel's authority.
Manafort could be facing approximately 10 years in prison from his first trial.