Marvel just released the first image of Brie Larson as 'Captain Marvel'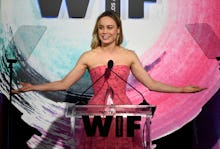 The first image of actor Brie Larson in character as Captain Marvel is officially here. On Wednesday, Entertainment Weekly released the image of its upcoming cover featuring Larson as Captain Marvel, clad in a red, blue and gold bodysuit. A series of ten more images shared by Entertainment Weekly on Wednesday afternoon shows Larson and the rest of the cast in various costumes and behind-the-scenes moments.
Larson will star as the titular superhero in Captain Marvel, due out March 8. The film will make history as the first in the Marvel Cinematic Universe to center on a solo female hero. Captain Marvel, aka Carol Danvers, is, according to her official Marvel character page, a former head of NASA security who "transformed from a merely brilliant pilot into one of the most powerful Super Heroes in the universe" after "an alien device mutated her DNA."
Captain Marvel's arrival in the MCU was teased at the end of 2018's Avengers: Infinity War, in a post-credits scene that seemed to hint that Carol Danvers is on her way to help save the day.
According to EW, Captain Marvel will feature in the next Avengers film as well as in her solo movie, the latter of which is set in the mid-'90s and will see her joining an "elite" alien military team led by a commander played by Jude Law.
"She can't help but be herself," Larson told EW, speaking about her character. "She can be aggressive and she can have a temper and she can be a little invasive and in your face. She's also quick to jump to things, which makes her amazing in battle because she's the first one out there and doesn't always wait for orders. But the [not] waiting for orders is, to some, a character flaw."