Hammered by Democrats, Kavanaugh insists "personal beliefs" won't factor into Supreme Court rulings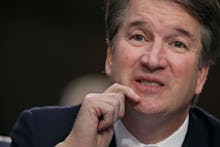 Brett Kavanaugh defended his judicial record and past legal writings, telling the Senate judiciary committee on Wednesday that he decides cases based on which side makes "better legal arguments" — and not his own feelings about the case.
"My personal beliefs aren't relevant to how I decide cases," Kavanaugh said during the second day of his confirmation hearing. "If you walk into my court room and you have the better legal arguments, you will win."
These claims of legal objectivity came as Democrats on the committee, whose railing against Kavanaugh's nomination reached a fever pitch on Tuesday, grilled him over his record and legal views.
It was a textualist judicial philosophy — one seemingly meant to assuage concerns that his confirmation would represent a rightward turn for the nation's high court. But is it really possible for a judge to set aside their personal biases, as Kavanaugh suggested he could? Not really, according to Kathleen Clark, a professor of law at Washington University School of Law.
"When he says, 'It's all about precedent for me,' I think on some level he's objectively being honest," Clark said by phone Wednesday. "But what we need to understand is that his view of precedent and the law and the Constitution has a lot to do with his personal beliefs."
While judges do, in fact, rely on legal precedent and the text of the Constitution when they decide cases, Clark said, they "filter the precedent through their personal beliefs."
"It may not be on his preference for key lime pie over chocolate, for instance, but it is a personal belief about what the Constitution requires and what regulatory agencies can and cannot do," she said. "Those are personal beliefs about the law."
Based on Kavanaugh's past, it appears he would take a more conservative approach to cases, Clark added.
"That's his record," she said.
Nevertheless, Kavanaugh made his claims on Wednesday to judicial objectivity central to his defense against at times intense lines of questioning regarding issues ranging from gun control to reproductive rights.
Sen. Dianne Feinstein (D-Calif.) questioned him about his view that a ban on semi-automatic assault weapons is unconstitutional.
"This is all about precedent for me," Kavanaugh said.
Feinstein's questions relating to gun control came a day after Fred Guttenberg, the parent of one of the victims of the Marjory Stoneman Douglas High School shooting in February, attended the opening day of the hearing as a guest of Feinstein's. Guttenberg attempted to shake Kavanaugh's hand during a break in Tuesday's hearing, but Kavanaugh appeared to decline to do so.
Later in the day, Sen. Dick Durbin (D-Ill.) questioned Kavanaugh about a case related to abortion. Kavanaugh, who Democrats have suggested could be a threat to reproductive rights, said his decision would be compelled by "precedent" — not personal views.
"I'm a judge, I'm not making policy decisions," Kavanaugh said. "I'm deciding whether the policy is consistent with Supreme Court precedent."
Durbin directly confronted Kavanaugh over his textualist approach later in his line of questioning.
"I have no agenda in any direction," Kavanaugh told Durbin. "I'm a judge."
"Gosh, we've heard that so often," Durbin replied. "We know there's so much more to your job than that."
Kavanaugh was selected by President Donald Trump to replace Anthony Kennedy, who retired from the bench in July. Kavanaugh is considered more conservative than Kennedy, who had been a somewhat moderate swing vote on the court.
Democrats have raised objections to both Kavanaugh's record and his nomination process, which they say has been rushed and has lacked transparency.
On Tuesday, Democrats sought to delay the start of the hearing, but the Republicans who control the committee accused their counterparts of being partisan obstructionists and refused to allow a vote to adjourn the meeting.
Though Wednesday's hearing was less acrimonious than Tuesday's, it remained tense, with the shouts from protesters at times interrupting the proceedings.
"What a bunch of dumbbells," Sen. Orrin Hatch (R-Utah) said of the demonstrators Wednesday.
Trump himself loomed large over the hearings, with senators raising questions about Kavanaugh's views of executive power. Some Democrats, including Sen. Richard Blumenthal (D-Conn.), have suggested that Trump nominated Kavanaugh in an effort to protect himself from possible legal peril stemming from special counsel Robert Mueller's Russia probe, along with an FBI investigation into the president's former longtime personal attorney, Michael Cohen.
Kavanaugh emphasized he would be an independent justice.
"No one is above the law in our constitutional system," Kavanaugh said in his testimony Wednesday. "Under our system of government, the executive branch is subject to the law, subject to the court system."