Plus-size models in fashion ad campaigns are on the decline again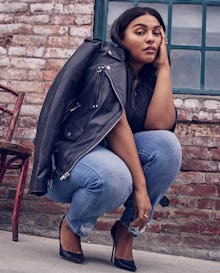 Out of 192 fall 2018 fashion print ads, only seven plus-size models — a mere 1.3% — were featured, according to analysis in the Fashion Spot's biannual diversity report.
That's down from what was already a low bar — 10 — who appeared in spring 2018 ads. At their peak in fall 2016, still only 16 plus-size models made appearances.
The report is among a larger trend in the fashion industry. In the fall 2018 fashion month report, there was also a downtick in plus-size models when only 30 plus-size models total walked on runways across all four major cities: New York, London, Milan and Paris.
"I am hopeful every season that we'll see more size diversity, and every season I am let down," the Fashion Spot's Jennifer Davidson said in an interview. "There is clearly a demand for more representation, yet brands inexplicably continue to ignore the plus-size customer. Considering the enormous buying power of this market, it makes absolutely no sense."
There's some good news though: Models of color continued to see an uptick in appearances for the last six seasons straight, over double from this time three years ago. Also, the number of transgender models and models over 50 both ticked up from last season, although neither set new records.
And while this was the most racially diverse campaign season ever on the whole, diversity, according to Davidson, has been stagnant overall. "We're no longer seeing the same kinds of gains season over season that we saw a few years ago," Davidson said. "What that means to me is that the industry is getting complacent."
With New York Fashion Week officially underway, it remains to be seen if the downtick in plus-size models seen during last fashion week will continue to decline, or if the industry can regain its footing when it comes to achieving the bare minimum in plus-size representation.