Melania Trump's spokesperson trolls 'Insecure' creator Issa Rae over first lady comments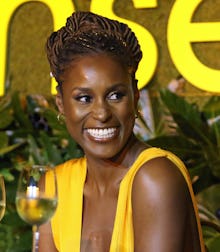 It seems like Issa Rae, the star and creator of HBO's Insecure, officially has beef with the Donald Trump administration. It all started with a recent Glamour interview, during which Rae spoke about how much she enjoyed speaking to former first lady Michelle Obama, who's apparently an Insecure fan.
"I was like, 'You really watch it?' She was like, 'Yes. Sasha and Malia put me on to it,'" Rae told the magazine. "It was like talking to my auntie. It bums me out that I will never have that feeling again of the first family fucking with us so hard and getting us." Then Rae went on to say that, "If Melania [Trump] said that to me, I would be like, 'Well, I guess it's canceled. We're not making this show. It's not ours anymore.'"
The celebrity gossip rag Page Six took that quote and ran with it, running a story with the headline, "Issa Rae would cancel 'Insecure' if Melania Trump loved it." That drew the attention of Melania Trump's director of communications and former Trump transition team member Stephanie Grisham, who tweeted out on Wednesday, "Alert: FYI @IssaRae, @FLOTUS likes your show!"
Rae didn't let the blatant trolling go unnoticed — she responded, "Melania or the double," a reference to the bizarre conspiracy theory that the first lady is occasionally replaced with a body double.
Comedians sparring with official White House communications directors on Twitter? Sounds like 2018 to me.