Nike will reportedly run "Dream Crazy" ad featuring Colin Kaepernick during NFL season opener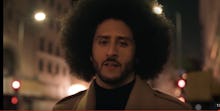 Nike released a new commercial narrated by Colin Kaepernick on Wednesday, two days after news broke that the former NFL quarterback would be featured in the company's 30th anniversary "Just Do It" campaign.
The ad will air Thursday during the NFL season opener, TMZ reported.
"Dream Crazy," the two-minute commercial, pulls together clips of young and more accomplished athletes overcoming obstacles on and off the court. Footage of Nike-endorsed stars LeBron James and Serena Williams are included.
"Don't become the best basketball player on the planet, be bigger than basketball," Kaepernick says as footage of James on a basketball court transitions to video of the Los Angeles Lakers forward at the grand opening of the school he opened in August in Akron, Ohio.
"Believe in something, even if it means sacrificing everything," Kaepernick adds. (This same phrase appeared on the print advertisement that announced Kaepernick and Nike's partnership on Monday.)
"And if you're a girl from Compton don't just become a tennis player, become the greatest athlete ever," Kaepernick says as footage runs of Williams serving over a tennis net.
Nike has chosen to re-up their endorsement deal with Kaepernick — who the company has sponsored since 2011 — even though he has been at the center of political controversy since August 2016, when he chose not to stand during the national anthem before NFL games to protest police violence and racism.
Athletes nationwide followed Kaepernick's lead by kneeling before games as well. Kaepernick has accused the NFL of colluding to keep him from playing since March 2017 — when he became a free agent — because of his activism. On Monday, an NFL-appointed arbitrator ruled that Kaepernick had enough evidence to proceed with a legal case against the league.
"As a Nike athlete, Colin has been featured in several campaigns for football, training and Nike Sportswear," Nike spokesperson Sandra Carreon-John said Monday in a statement to Mic. "The current Just Do It campaign celebrates some of the most inspirational athletes who have chased dreams no matter the obstacle or outcome."
Not everyone is happy about Nike's involvement with Kaepernick. On Monday, detractors burned footwear and called for a boycott of the brand after the new series of advertisements was announced.