Starbucks opens its first store in coffee-obsessed Italy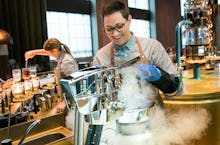 Italy — a country with a long and proud history of coffee culture — now has its first Starbucks. The Milan debut has taken some time: In 2016, former Starbucks CEO Howard Schultz announced the green mermaid would stake her claim in Milan in early 2017. Even before Italians voiced their distaste for the launch (namely on various corners of the internet), Schultz seemed aware the rollout would need to be particularly sensitive.
"Now we're going to try, with great humility and respect, to share what we've been doing and what we've learned through our first retail presence in Italy," Schultz said in a statement in 2016. "Our first store will be designed with painstaking detail and great respect for the Italian people and coffee culture."
If Schultz sounds like he's walking on eggshells, it probably has something to do with the pride Italians take in their coffee culture. It's a culture steeped in ritual and plenty of unwritten rules, which may as well include: Thou shall never order a 24-ounce vessel of drip coffee to-go. Needless to say, not everyone is psyched about the imminent opening of the coffee giant in Italy.
"The resistance around [Starbucks] has to do with the very strong coffee culture we already have Italy," Andrea Grisdale, founder and CEO of IC Bellagio, a luxury travel company that specializes in Italy, said in a phone interview. "The tradition is almost being attacked by this very market." Some have been outspoken about their opposition to an Italian Starbucks since the plan was first announced.
To be fair, Schultz attributes Starbucks' strength to what the Italians have mastered. "Starbucks history is directly linked to the way the Italians created and executed the perfect shot of espresso," he said in the 2016 statement.
Italy's coffee rituals aren't necessarily the same as Starbucks coffee rituals
How are Italy's coffee rituals so distinct from the kind marketed and stamped with the iconic green logo? Grisdale said outside of Italy, she "wouldn't think twice" about ordering a coffee to-go. In fact, most Italian cafes don't stock proper to-go cups. But she said she "would never do that in Italy."
The rules are pretty specific and ingrained from an early age: "You drink your cappuccino in the morning for breakfast, and you'd openly dunk your croissant or brioche into it [if you were out at a cafe]," Grisdale said. "For the rest of the day, a mid-afternoon coffee or after dinner, the thing to do would be to have an espresso. It's the norm." In Italian culture, there's no 4 p.m. Frappuccino run to escape the mid-day slump. In this sense, Starbucks' Happy Hour promotions have no place in Italy.
Even more, Italian coffee sellers rarely present the option to pick a size of your order. As Grisdale put it, "You can imagine when Starbucks opens and gives you your bucket of coffee, it's kind of like, 'What are you giving me, a cappuccino for the next two weeks?'" Espresso amounts to "literally a mouthful or two" of liquid. "The cappuccino is a cup — not a mug — and that's it," Grisdale said.
Still, Grisdale said she anticipates a "huge amount" of interest in the beginning — even from locals. "It's something unusual and something the local people will be curious about," she said.
Ultimately, Grisdale predicts Starbucks will find its own kind of success in the country, particularly through international customers. "I think it will be a big hit for the international clients coming in — they'll probably be happy to see something they recognize from home and something that they're used to." She also mentioned that the free WiFi and couches will attract students and anyone looking to get some work done. For coffee lovers who expect to have caffeine within reach during all times of the day, Starbucks will be a relief.
Why Milan is a good place for Starbucks to start
If Starbucks is to do well in Italy, Milan might be just the place. "Milan is a city right now that even within the last five years has changed so much," Grisdale said. She credits the Expo 2015, which was hosted in Milan, for helping to transition the city from a place visitors see before they head to the airport to an actual destination. More time spent visiting Milan means more time for coffee.
The new Starbucks isn't moving in quietly. The brick and mortar — which will be a Starbucks Reserve — is 25,000 square feet that give guests the opportunity to "walk around the entirety of the equipment, from the roaster to the cooling tray, de-gassing chamber and packing line," according to a press release. The Starbucks will house a 22-foot bronze cask — "which from time to time dramatically unfolds like a blooming flower, allowing a rare glimpse inside of the de-gassing chamber — a natural part of the roasting process through which every coffee bean passes."
It might sound a bit Willy Wonka-esque, but it's fitting for the location that started it all — it was a trip to Milan 35 years ago that inspired Schultz to turn Starbucks into the company it is today.