Mic Daily: Brett Kavanaugh's hearings continue — and other news of the day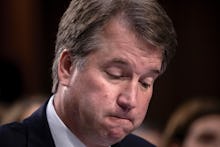 Welcome to Mic Daily: Mic's newsletter that cuts through the noise and lands in your inbox every weekday. We carefully curate each edition to send you a cross section of our most vital stories of the day.
Want more entertainment news in your inbox? Sign up for Hype Daily — Mic's morning entertainment roundup. It's got all the news you need to start your day.
Day two of Senate confirmation hearings for Supreme Court nominee Brett Kavanaugh got underway Wednesday morning — a process that will culminate in massive civil rights rollbacks if he is appointed, according to NAACP president Derrick Johnson.
"It would be the unraveling of civil rights gains of the last 50 to 60 years," Johnson said by phone Tuesday. "Everything would be on the table."
InfoWars host Alex Jones showed up to Facebook and Twitter's meeting with Congress on Wednesday. He held his own press conference and talked over Sen. Marco Rubio (R-Fla.) as he talked with press.
As Supreme Court nominee Brett Kavanaugh's Senate hearing continues Wednesday, a lawsuit on the future of the Affordable Care Act is moving forward — and is potentially on its way to the high court.
Brett Kavanaugh defended his judicial record and past legal writings, telling the Senate judiciary committee on Wednesday he decides cases based on which side makes "better legal arguments" — and not his own feelings about the case.
What's more romantic than flowers and chocolate? A probiotic yogurt drink, thanks to a sweet moment inTo All the Boys I've Loved Before, the adorable coming-of-age Netflix movie that has captured the hearts of many.