Gwyneth Paltrow's Goop has to pay $145,000 for recommending vaginal jade eggs to customers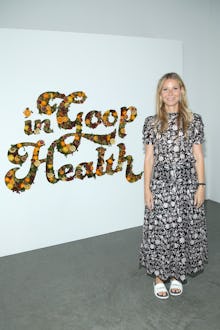 Gwyneth Paltrow's wellness company, Goop Inc., has been fined a hefty $145,000. The reason behind the six-figure payout: recommending products with what a government task force has argued are "unsubstantiated claims." According to the task force, Goop sold $66 jade eggs with the suggestion that they provided health benefits such as balanced hormones and a regulated menstrual cycle; the task force argued there is no reliable scientific evidence, so the company must also refund its customers.
The California Food, Drug and Medical Device Task Force — comprising prosecutors from 10 counties in California, including Napa, Marin and Orange counties — filed a consumer-protection complaint against Goop on Friday, focusing on the claims of three products in particular: the Jade Egg, Rose Quartz Egg and Inner Judge Flower Essence Blend. The case was settled just days later, with Goop agreeing to pay the penalties and refund its customers.
"It's important to hold companies accountable for unsubstantiated claims, especially when the claims have the potential to affect women's health," Tony Rackauckas, the Orange County district attorney, said in a statement.
Goop has agreed to provide full refunds to customers who purchased the products between Jan. 12, 2017, and Aug. 31, 2017. Customers can request that refund by emailing Goop at customerservice@goop.com or by calling the customer service hotline at 1-844-WTF-GOOP. Seriously.
In its defense, Goop argued the company "provides a forum for practitioners to present their views and experiences with various products like the jade egg," Erica Moore, the company's chief financial officer, told CNN. "The law, though, sometimes views statements like this as advertising claims, which are subject to various legal requirements."
"Goop is also barred from making any claims regarding the efficacy of its products without possessing competent and reliable scientific evidence."
While the one-time settlement makes for a funny headline, this suit had further implications. "Goop is also barred from making any claims regarding the efficacy of its products without possessing competent and reliable scientific evidence, and from manufacturing or selling any misbranded, unapproved or falsely advertised medical devices," the Orange County district attorney's office said in the release.
Such a requirement necessitates a major shift in the company. In a much-lauded profile of Gwyneth Paltrow and Goop in the New York Times in July, writer Taffy Brodesser-Akner discussed how Goop has faced other legal challenges or complaints in the past, and altered its plans to create a Goop magazine with publisher Condé Nast after the company asserted a need for fact-checkers. "Some would argue — her former partners at Condé Nast, for sure — that it is giving an unfiltered platform to quackery or witchery. OK, OK, but what is quackery? What is witchery?" Brodesser-Akner wrote of Paltrow's apparent thought process.
Of course, Paltrow isn't the only entrepreneur who has skirted facts for marketing's sake. In 2008, the makers of the supplement Airborne agreed to pay $23.3 million after a class-action suit argued there was no evidence to its claim to fight colds and boost immunity. In April 2009, the Federal Trade Commission said Kellogg violated federal law when it claimed that Frosted Mini-Wheats were "clinically shown to improve kids' attentiveness by nearly 20%," saying the tests its advertisements referred to did not provide enough evidence to back up the stat. Just over a year later, the company got in trouble again when the FTC fought Kellogg's claim that Rice Krispies boosted children's immunity. In 2010, Wrigley coughed up $6 million to consumers after it claimed that Eclipse gum and mints were proven to kill the germs causing bad breath.
More recently, Jamba Juice has fought the good fight against facts: In 2015, the settlement of a class-action lawsuit in California ruled that the company couldn't use the label "all-natural" to describe some of its smoothie kits. The company is facing another class-action suit right now over descriptions of its smoothies as created with "whole fruits and vegetables," while plaintiffs allege they're typically made from juice concentrates and sherbet.
If these examples feel too ridiculous, consider that in 2014, Red Bull agreed to pay out $13 million to customers after settling a class-action lawsuit from customers upset that the product didn't, as the long-time advertising slogan suggested, give them wings, figuratively or literally: They claimed that ads implying increased concentration and reaction time were fraudulent, as a 8.4-ounce can of Red Bull contains less caffeine than a similarly sized cup of coffee.