Hype Daily: Lucas Hedges comes out as "not totally straight" — and more entertainment news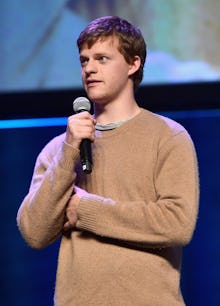 Welcome to Hype Daily, Mic's morning entertainment roundup. Here's everything you need to catch up on in the entertainment world and what to look forward to today. Want to receive this as a daily email in your inbox? Subscribe here.
Greetings, readers! Hope everyone is having a joyous and relaxing Thursday. Let's get right into today's entertainment news, shall we?
Lucas Hedges comes out as not straight in a new interview
Lucas Hedges, of Manchester by the Sea, Lady Bird and the upcoming Boy Erased, gave a new interview with Vulture in which he opened up about his sexuality. I think I was always aware that while for the most part I was attracted to women, I existed on a spectrum," Hedges said. "I recognize myself as existing on that spectrum: Not totally straight, but also not gay and not necessarily bisexual."
Congrats, Lucas! Boy Erased, which stars Hedges as a young gay man whose conservative family sends him to a so-called "conversion therapy" program, hits theaters Nov. 2.
Michael B. Jordan is teaming up with Warner Bros. on a diversity and inclusion initiative
Creed and Black Panther star Michael B. Jordan is taking on a new role — partnering with WarnerMedia (parent company of Warner Bros.) to help the industry giant institute new policies to promote diversity and inclusion.
As the Los Angeles Times reported Wednesday, the new initiative will focus on "having women, people of color, members of LGBTQ communities, folks with disabilities and other underrepresented groups in greater numbers in front of and behind the camera," starting with Jordan's upcoming film Just Mercy, currently in production.
The studio also pledged to issue an "annual report" updating the public on the progress of its diversity initiative — which might be the most significant part. After all, new policies are great, but only if they work.
Billy Eichner's Billy on the Street is making a comeback
Comedian Billy Eichner's show Billy on the Street, in which he and other celebrities run around New York City while Eichner yells at strangers, is making a triumphant return! The show formerly aired on Fuse and truTV, but in its new incarnation, it will be an eight-episode Funny or Die webseries, coproduced by Lyft, according to the Hollywood Reporter.
Upcoming Billy on the Street guests include Lin-Manuel Miranda, Tiffany Haddish and Emma Stone. I, personally, am very excited for this show to come back because nothing makes me laugh like angry New Yorkers refusing to say hello to celebrities.
Wanda Sykes has a Netflix special in the works
Comedian Wanda Sykes has a new Netflix comedy special on the way, set to hit the streaming service sometime in 2019, Deadline reported Wednesday. This will be Sykes' fifth stand-up comedy special but her first on Netflix.
The news comes months after Sykes joined comedian Mo'Nique in sharing her criticism of Netflix, saying the streaming service had offered her far, far less for a comedy special than it was paying people like Amy Schumer or Chris Rock. Looks like Sykes and Netflix have healed their relationship.
Put this on your radar: BoJack Horseman
Netflix's dark animated comedy BoJack Horseman returns for its fifth season Sept. 14. (Full disclosure: The creator of BoJack, Raphael Bob-Waksberg, is my wife's cousin and a friend.) The season five trailer dropped this week — watch it here — and, while it doesn't reveal much, it seems to hint that BoJack might actually be trying to change some of his self-loathing and self-destructive tendencies. But, you know, it's BoJack, so don't expect a happy ending.