Today in Trump's America: An anonymous op-ed by a senior official is rocking the Trump White House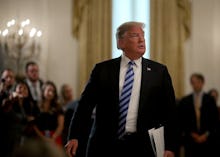 Welcome to Mic's daily read on Donald Trump's America. Want to receive this as a daily email in your inbox? Subscribe here.
Good morning from Emily Singer at Mic.
Here's what's happening in Trump's America:
• President Donald Trump travels to Montana Thursday to stump for Matt Rosendale, the GOP Senate nominee trying to oust Democratic Sen. Jon Tester.
Today's question: Do you think it was appropriate for a Trump administration official to pen the op-ed in the New York Times? 
Email us at TrumpsAmerica@mic.com with your thoughts. I'll put your responses in Friday's newsletter.
About last night: Speculation abounds about the anonymous op-ed author
A New York Times op-ed by an anonymous "senior official in the Trump administration" is rocking the nation, as many speculate who penned the piece, which describes a secret effort within the White House to protect Americans from Trump's whims.
The op-ed had numerous explosive passages, from declaring Trump to be "amoral" and "anti-democratic" to saying there was chatter of "invoking the 25th Amendment" — the arcane process in which the Cabinet declares the president is "unable to discharge the powers and duties of his office" and transfers his power to the vice president.
The fact that there are numerous senior White House officials who could conceivably be the author of the op-ed is wild in and of itself. Let it sink in: Multiple staffers working in the highest positions in the White House apparently think their own boss is unfit to serve, according to the piece.
Trump predictably responded to the op-ed in an over-the-top, autocratic fashion, first tweeting "TREASON?" in all caps before demanding the New York Times "turn him/her over to government at once!," referring to the author. Of course, a news organization would never intentionally turn over a source to the government to be prosecuted. Reporters have gone to jail protecting sources.
Other Republicans, however, say this official should come forward.
"America has one duly elected president," Sen. Marco Rubio (R-Fla.) tweeted Thursday morning. "Anybody serving at his pleasure should do so faithfully. When they feel they no longer can, they should resign & speak in their own name so the country can evaluate their insights with a full understanding of where they are coming from."
Today in Trump's America: Kavanaugh hearings continue
Wednesday was a long day for Supreme Court nominee Brett Kavanaugh as he was grilled by senators from 9:30 a.m. until just after 10 p.m.
Most of what came out of the day wasn't noteworthy. Kavanaugh refused to answer questions about key issues, namely his views on abortion rights, campaign finance laws or executive power. Republicans lobbed softballs his way, inexplicably asking multiple times where Kavanaugh was on 9/11 and what it is like to be a coach for his daughter's sports teams.
As the hearings moved past work hours, some compelling exchanges took place. Sen. Kamala Harris (D-Calif.) asked Kavanaugh whether he discussed special counsel Robert Mueller's investigation with anyone at Marc Kasowitz's law firm, who is one of Trump's personal lawyers.
Kavanaugh repeatedly declined to answer Harris' question before saying: "I think you're thinking of someone, and you don't want to tell us. Did you speak with anyone at that law firm about Bob Mueller's investigation?"
While it's unclear what exactly Harris knows about who Kavanaugh has spoken to about the Mueller investigation, many are questioning whether Harris was trying to make news where none exists — or perhaps she knows about improper conversations Kavanaugh had about the ongoing investigation.
"Either Kamala Harris has something significant to reveal about Kavanaugh's having improper discussions about the Mueller probe with someone from the Kasowitz firm, or she engaged in a shocking piece of demagoguery yesterday," Benjamin Wittes, a senior fellow at the Brookings Institute tweeted.
And that wasn't the only viral moment Harris had in her line of questioning. At one point, as she tried to parse Kavanaugh's beliefs on abortion rights, she asked: "Can you think of any laws that give the government the power to make decisions about the male body?"
To which Kavanaugh replied, "I'm not thinking of any right now."
Hearings resume Thursday morning.
Capitol Hill happenings: GOP lawmaker under fire in Virginia
With Trump sucking up most of the oxygen within the Beltway, stories at the congressional level frequently fly under the radar. A bizarre incident Wednesday in a Virginia House race falls into that category.
In Virginia's 2nd District — a competitive seat located on the coast of the state — a judge ordered an independent candidate be removed from the ballot, saying the candidate's petition to qualify for the race was marred by "forgery" and "out and out fraud," the Washington Post reported.
Apparently, the signatures on that very petition were gathered by staffers who work for the GOP incumbent, Rep. Scott Taylor. When questioned, those staffers invoked their Fifth Amendment rights against self-incrimination, refusing to say whether Taylor ordered them to collect the signatures in an effort to help splinter the vote between the Democratic nominee and the independent candidate to help Taylor win a second term.
Taylor himself was exempt from a subpoena because of a state law that "shields sitting members of Congress from being compelled to attend civil court proceedings while the U.S. House is in session," the Post reported.
Nevertheless, the hint of impropriety could further imperil Taylor's bid.
The race is already competitive, and Trump carried the 2nd District by a slim 3-point margin in 2016. Democrats nominated Elaine Luria, one of a number of female veterans running for Congress. Luria is hailed as a strong candidate for this district as she is a Navy veteran in a seat that houses a massive Naval base in Norfolk.