Body camera footage released of Ohio officer who used a stun gun on an 11-year-old girl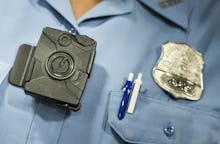 Body camera footage of police officer Kevin Brown, 55, using a Taser on 11-year-old Donesha Gowdy for shoplifting at a Cincinnati, Ohio, supermarket on Aug. 6. was released Wednesday.
Brown didn't turn his camera on until after using the Taser on Gowdy, approximately five minutes after learning of the shoplifting attempt, according to local news outlet WCPO. Both Brown and Gowdy are black.
Brown, who was off-duty but working as security during the incident, saw three girls attempting to take items from the store. When the girls tried to leave the store, Brown asked them to stop repeatedly.
"The last thing I want to do is Tase you like that," Brown said. "When I say stop, you stop. That hurt my heart to do that to you." Brown went on to use Gowdy's shoplifting as an example of why there are no grocery stores in the black community.
Brown was in violation of a few department rules. WCPO notes Brown was wrong for not turning on his body camera immediately, not announcing a warning that he was about to use his Taser before using it and for the amount of force used compared to the severity of the crime, to name a few. In the video, Brown said people near the supermarket said his treatment of Gowdy was wrong.
"I've got to listen to all these idiots out here in the parking lot tell me I was wrong for tasing you," Brown said.
The shoplifting charges against Gowdy were dropped in August. Cincinnati Mayor John Cranley requested the charges be dropped in a call with prosecutor Joe Deters.
"I am not pursuing criminal charges against an 11-year-old who committed a low-level misdemeanor who was Tased in the back," Deters told WXIX. "We are done with it."
Brown's actions will be reviewed at an upcoming predisciplinary hearing, police chief Eliot Isaac told Council's Law and Public Safety Committee.