In leaked email Republicans concealed, Brett Kavanaugh said 'Roe v. Wade' is not settled law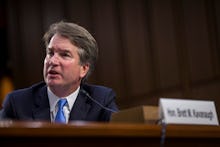 During his ongoing confirmation hearing, Supreme Court nominee Brett Kavanaugh has said over and over again Roe v. Wade, the case guaranteeing a woman's right to an abortion, is "settled law."
However, in a March 2003 email Senate Republicans have deemed "committee confidential" and therefore concealed from the public eye, Kavanaugh suggested the landmark decision is not in fact settled law. The New York Times obtained the email from what it said is an unknown source and first published its contents Thursday. Mic obtained the email shortly after the Times published its story.
"I am not sure that all legal scholars refer to Roe as the settled law of the land at the Supreme Court level since Court can always overrule its precedent, and three current Justices on the Court would do so," Kavanaugh wrote in the email. The message was discussing a draft of an opinion piece for a conservative appeals court nominee the Bush administration was trying to get confirmed.
Meanwhile, Senate Democrats argue all of the documents Republicans have deemed "committee confidential" should be released publicly — both so Americans can see them and Democratic senators can ask questions pertaining to he documents.
Sen. Cory Booker (D-N.J.) said Thursday he is going to "knowingly violate" the rules to release one of the emails regarding "racial profiling."
"I understand that the penalty comes with potential ousting from the Senate," Booker said.