Shantee Tucker, a 30-year-old black transgender woman, killed in Philadelphia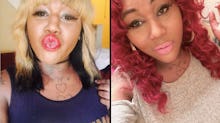 Shantee Tucker, 30, a black transgender woman, was found fatally shot in Philadelphia on Wednesday — and her death is the latest in what was already a deadly period for the trans community. Less than a week earlier, on Aug. 30, two black trans women were killed, Vontashia Bell, 18, in Shreveport, Louisiana and Dejanay Stanton, 24, in Chicago.
As Philadelphia magazine reported Wednesday, police were called to respond to a shooting early Wednesday morning, where they discovered Tucker with a gunshot wound. She was later taken to nearby Temple Hospital.
News of Tucker's death spread quickly among her friends, many of whom posted messages mourning her on social media. In one Facebook post, a friend wrote, "When I first came back to Philly and started hanging out uptown (an area I knew nothing about) you literally held my hand and showed me around. You took me to all the best bars and 'hood' spots, introduced me to the 'important people' and made sure I was always comfortable and for that I'm eternally grateful. Rest up sis and enjoy paradise. This world didn't deserve you. Trust and believe we will continue to speak your name!"
Another wrote, "My sweet Shantee, I love you forever cousin. May you rest beautifully in peace." Photos posted to Facebook showed balloons and candles lit in Tucker's honor.
In a statement posted on Facebook, the Mazzoni Center, an LGBTQ community health organization based in in Philadelphia, wrote, "We are deeply saddened at the news that Shantee Tucker, a black trans woman was found murdered today in Philly. This most recent death adds to the deaths of Dejanay Stanton (Chicago) and Vontashia Bell (Louisiana). This underscores the urgent need to address the epidemic of violence against the transgender community across the U.S."
As Mic previously reported, trans people in the United States face disproportionate rates of deadly violence — and trans homicides are likely underreported, advocates say, meaning the real number of victims could be far higher than we know.