The Trump administration is preparing to withdraw from the decree limiting child migrant detention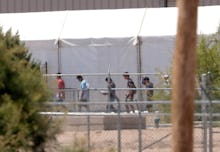 In a move that would effectually allow the government to detain migrant children indefinitely, the departments of Homeland Security and Health and Human Services announced on Thursday plans to withdraw from the Flores Settlement Agreement.
After the Trump administration implemented in April its much-maligned policy of separating undocumented immigrant families, officials pointed to Flores v. Reno — the 1997 settlement that stipulates the government cannot detain migrant children for longer than 20 days — as the legal impetus for shipping children off to far-flung parts of the country while their parents languished in detention centers.
The administration said Thursday the new regulations would "satisfy [Flores'] basic purpose" and continue to ensure migrant children "are treated with dignity, respect and special concern for their particular vulnerability as minors."
In a statement, Homeland Security Secretary Kirstjen Nielsen said the decision was an attempt to close "legal loopholes" that "significantly hinder the department's ability to appropriately detain and promptly remove family units that have no legal basis to remain in the country."
"This rule addresses one of the primary pull factors for illegal immigration and allows the federal government to enforce immigration laws as passed by Congress," Nielsen said.
The Trump administration is likely to find itself back in court over the decision to amend the settlement, the Washington Post reported. U.S. District Court Judge Dolly M. Gee, who oversees the agreement, has previously stymied attempts to extend the number of days migrant children can be detained without their parents.
Flores has presented the Trump administration with perhaps its most significant legal hurdle in recent months by limiting its ability to use family detention centers, where migrant children and parents can be housed together for longer periods of time. By proposing changes to the agreement, officials hope to clear the way for building additional facilities, which can hold thousands of migrants at a time.
Although the government frequently uses euphemisms to describe such facilities as "summer camps" with bountiful amenities, a writer from the Marshall Project who toured one such family residential center in Dilley, Texas, in 2015, described it as more of an "interment camp."
A high fence and security cameras encircle the camp, preventing the "residents" from escaping. Visitors go through metal detectors and entry procedures indistinguishable from those in a regular prison. Both the children and their mothers know the "residential supervisors" are guards — and are reminded of this fact by reporting to be counted three times a day and enduring frequent bed checks at night.
Health and Human Services currently oversees about 100 shelters for underage migrants, according to the Post. Although a federal judge ordered the White House to reunite separated families by July 26, an estimated 500 children were still in federal custody as of Friday.
In response to Thursday's announcement, Omar Jadwat, director of the American Civil Liberty Union's Immigrants' Rights Project, said in a statement it was "sickening" to see the government "looking for ways to jail more children for longer."
"That's the complete opposite of what we should be doing — and it's yet another example of the Trump administration's hostility toward immigrants resulting in a policy incompatible with the most basic human values," Jadwat added.