Can Democrat Kerri Evelyn Harris oust a sitting senator in her own party's primary?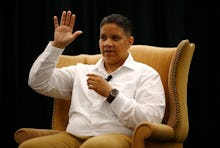 Kerri Evelyn Harris, a 38-year-old progressive Air Force veteran, is hoping to become the first Democrat since 2006 to oust a sitting senator from her own party on Thursday, when voters in her home state of Delaware head to the polls.
Harris, who is running on a progressive platform similar to that of Sen. Bernie Sanders, is facing off with Sen. Tom Carper, a moderate Democrat first elected to the House in 1982. He served as governor of the state for eight years before being elected to the Senate in 2001, where he's served ever since.
Carper has a big money advantage, spending more than $3.3 million on the race to Harris' $69,000, according to records filed with the Federal Election Commission.
However, in the 2018 election cycle, money has not been key to success in Democratic primaries, where insurgent candidates have bested longtime "establishment" Democrats in primaries in Florida, Boston and New York.
Harris' campaign is touting the grassroots momentum behind her bid, saying they've contacted more than 100,000 voters and mobilized 800 volunteers to turn out the vote in Thursday's primary.
"When Kerri first launched her campaign, no one knew what her chances would be," Harris campaign manager Drew Serres said in a statement to Mic. "Now you can feel the momentum with every conversation, whether at the door or on the phone. People are ready for Kerri."
There's only been one public poll in the race, which was taken at the end of July. It found Carper leading Harris, 51% to 19%. But that poll was taken more than a month before the election, so it's unclear where the race currently stands. In past races — such as Tuesday night's primary in Boston — polls have underestimated Democratic challengers.
Carper, meanwhile, has benefitted from a robocall from former Vice President Joe Biden, who served as a senator from Delaware for decades before ascending to the White House.
It's unclear what turnout will be on a Thursday primary, but low turnout would likely benefit Harris' campaign in this small state.
The last time a Democrat was ousted in a Senate primary was in 2006, when then-Sen. Joe Lieberman of Connecticut lost a primary to Ned Lamont. Lieberman went on to run and win as a third-party candidate. (Lamont is now the Democratic nominee for governor in Connecticut in 2018.)