Booker's theatrics set the tone for another day of contentious Kavanaugh hearings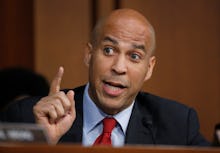 The third day of Brett Kavanaugh's Supreme Court confirmation hearings got off to a dramatic start Thursday when Sen. Cory Booker (D-N.J.) announced he would release what he said were classified emails involving President Donald Trump's second pick for the nation's high court.
The New Jersey Democrat, who is widely believed to be considering a White House run for 2020, told his colleagues on the Senate Judiciary Committee he would "accept full responsibility" for the release of the emails, including possible expulsion from the chamber.
He was soon joined by Sens. Dick Durbin (D-Ill.), Mazie Hirono (D-Hawaii) and other Democrats who have protested what they've described as a rushed, opaque confirmation process for Kavanaugh.
"This is probably the closet I'll come in my life to a 'Spartacus moment,'" Booker said Thursday. "I hope they will bring charges against us. I am ready to accept full responsibility for what I've done, the consequences for what I've done, and I stand by the public's right to have access to this document and know this nominee's views on issues that are so profoundly important, like race and the law, torture and other issues."
As Thursday wore on, Booker and Hirono's stand was seemingly revealed to be a stunt, as the "confidential" emails they each made public had apparently already been cleared for release.
Nevertheless, the theatrics set the tone for yet another day of contentious confirmation hearings.
As they did during the opening day of hearings Tuesday, Democrats resumed their objections to the nomination process.
"By ram-rodding this through for political reasons, by denying us access to the documents, we're denying the public the right to see what's out there," Sen. Amy Klobuchar (D-Minn.) said early Thursday. "It's just not how we do things in my state, and it's not how we've done things in our committee."
Democrats also continued to grill Kavanaugh on his legal views. Democrats have expressed strong concerns about the implications his confirmation would have on issues like civil rights, reproductive rights and executive power, among others.
"We're dealing here with a lifetime appointment," Sen. Richard Blumenthal (D-Conn.) said Thursday, explaining that lawmakers and the American public have not gotten a complete view of Kavanaugh's background. "Nothing we do here is more serious."
Kavanaugh has largely sidestepped specific questions about his views on controversial issues, insisting his "personal beliefs aren't relevant" to how he decides cases.
"This is all about precedent for me," the nominee said Wednesday.
But there are limits to Kavanaugh's vow to be an impartial "umpire," as Sen. Ben Sasse (R-Neb.) pointed out in his line of questioning Thursday.
"The analogy is strong and tight," Sasse said. "But I think it's imperfect."
"What you're doing, it's not as defined," the Nebraska Republican added, suggesting subjectivity plays a role in interpreting the law.
Trump selected Kavanaugh to replace Anthony Kennedy after the Supreme Court swing vote announced his retirement in late June. Kavanaugh's confirmation would likely shift the court further to the right and could have major implications for everything from Roe v. Wade to special counsel Robert Mueller's Russia investigation.
In one email the New York Times received late Wednesday, Kavanaugh suggested Roe v. Wade may not be "settled law." In the emails Booker released, Kavanaugh discussed racial profiling in the wake of 9/11. Though he said he "generally favor(s) effective security measures that are race-neutral," he also said the Bush administration must "grapple — and grapple now — with the interim question of what to do before a truly effective and comprehensive race-neutral system is developed and implemented."
Meanwhile, Hirono said the emails she released Thursday implied Kavanaugh "wrongly believes that Native Hawaiian programs are constitutionally questionable."
Margaret Russell, an associate professor at the Santa Clara University School of Law, said in an email Thursday that Democrats "are expressing legitimate concerns about the content of these emails," given the context of "what is already known about Kavanaugh's record and the goals of the president who nominated him."
"The emails released today suggest that Kavanaugh's mindset about racial discrimination, diversity and reproductive rights would be closer to the far right of the court and would resemble an Antonin Scalia approach more than an Anthony Kennedy approach," Russell told Mic. "For supporters of civil rights and reproductive rights, the confirmation of Kavanaugh to an already right-leaning court would be disastrous."
As of Thursday afternoon, it still seemed unlikely the Democrats' protests and intense questioning would prevent the Republican-controlled Senate from confirming Kavanaugh — even as the Democrats signaled they wouldn't go down without a fight.
Trump — who is navigating a new round of administration drama — has largely declined to comment on the confirmation process so far, except to say in a pair of tweets that the acrimonious first day of hearings showed how "mean, angry and despicable the other side is."
"So sad to see," Trump tweeted Tuesday.