Hype Daily: Hollywood mourns Burt Reynolds and more entertainment news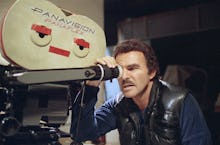 Welcome to Hype Daily, Mic's morning entertainment roundup. Here's everything you need to catch up on in the entertainment world and what to look forward to today. Want to receive this as a daily email in your inbox? Subscribe here.
TGIF, readers! Friday is finally here and so is a new round of entertainment news. Let's check in on the headlines of the day, shall we?
Actor Burt Reynolds dead at the age of 82
Hollywood icon Burt Reynolds died on Thursday at the age of 82. A heartthrob and mega-star, Reynolds was, as the Hollywood Reporter reported on Thursday, the industry's "top-grossing star every year from 1978 through 1982."
Known for films like Deliverance, Smokey and the Bandit and later Boogie Nights, Reynolds got his start on television. But he was also famous for his offscreen activities, like his famous Cosmopolitan photoshoot that had him posing nude on a bearskin rug — an image that basically defined the hairy masculinity of the 1970s.
Stars remembered Reynolds on Thursday after news of his death broke, including his former co-star and ex-girlfriend Sally Field, who said in a statement, "There are times in your life that are so indelible, they never fade away. They stay alive, even forty years later. My years with Burt never leave my mind. He will be in my history and my heart, for as long as I live. Rest, Buddy." 
Cicely Tyson is getting an honorary Oscar
At 93, actor Cicely Tyson is finally getting an Oscar. As Vanity Fair reported on Thursday, Tyson will be one of this year's recipients of an honorary award from the Academy's Board of Governors. Tyson will be the first black woman in Oscars history to receive an honorary award, according to Vanity Fair. Wow.
Tyson is known for her decades-long career and her roles in films like Sounder, The Autobiography of Miss Jane Pittman and Fried Green Tomatoes, as well as her frequent appearances on stage and television. And she was married to Miles Davis, which is very cool.
The Veronica Mars reboot will start production in October
Veronica Mars, the early-2000s teen detective show that already returned once in movie form is coming back as a series on Hulu — and TVLine reports that production is scheduled to start as early as October. There aren't many details yet, but we know that Kristen Bell is returning as the titular lead, and it seems like Enrico Colantoni will return in the role of her dad. Let the age of reboots continue!
A 'Frozen' castmember grabbed a Trump banner from someone in the audience
On Wednesday night, an audience member seated in the front row of the Broadway production of Frozen, the musical based on the hit Disney film, unfurled a big "Trump 2020" banner during the cast's curtain call, Entertainment Weekly reported on Thursday. That prompted cast member Timothy R. Hughes to reach down, grab the banner and toss it away. You can check out a video of the incident here, on Hughes' Instagram.
Captioning the post, Hughes wrote, "What does it say about our country and politics when a man at the show tonight felt the need to protest Disney's Frozen on Broadway with a pro-Trump flag?? How frightening is it that our show's messages of love, acceptance, and diversity have become the opposition to supporting Trump? The curtain call is a thank you between actors and audience, a final connection to end a shared experience. I will not apologize for how I responded to the disrespectful man trying to interrupt this moment with a pathetic political platform. Not at our show! Not in front of my beautiful, diverse, talented cast at @frozenbroadway. I appreciate everyone's support."
Seems like that Trump supporter in the front row should... let it go. Get it?
Put this on your radar: Five Fingers for Marseilles
The critically acclaimed South Africa-set Western Five Fingers for Marseilles opens in U.S. theaters today. The film tells the story of a young man who grows up in a rundown town outside Marseilles, South Africa. He kills two white police officers and flees — then returns to town 20 years later, post-apartheid. The New York Times called it "imaginative and allegorical, keeping the commentary crisp," so, you know, put it on your radar.