Trump calls administration "well-oiled machine" as White House scrambles to ID mystery op-ed writer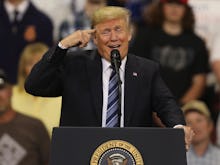 President Donald Trump dismissed the apparent chaos engulfing the White House, telling supporters Thursday night at a rally in Montana that his administration runs like a "well-oiled machine."
"We have a lot of love in the administration," Trump said at the rally, in response to a question from Fox News' Pete Hegseth. "The White House is truly, as you would say, a well-oiled machine. It is working so well."
The remarks came a day after an anonymous senior administration official wrote an op-ed in the New York Times describing a "quiet resistance" within the White House working to protect the nation from Trump's "misguided impulses" and "erratic behavior."
No one has come forward to say they've authored the piece, which has dominated the news cycle since it was published Wednesday afternoon. Top administration officials have publicly denied writing it, but according to two unnamed officials who spoke with Axios, the essay speaks for "dozens and dozens" of staffers.
All of this has led to what appears to be a frenzied search by the White House to determine the mystery writer, with Trump's advisers reportedly weighing administering lie detector tests to figure out who among them was the author — an idea raised publicly Thursday by Sen. Rand Paul (R-K.Y.).
Both Trump and his critics have called for the op-ed writer to go public. Trump has even suggested the writer may have committed treason and demanded the Times turn him over as a matter of national security. Meanwhile, some of Trump's critics have argued that the sentiments in the op-ed would be more impactful if the senior official would sign his name to it, and coupled that with concrete action to "remove [Trump] from [office], by the lawful means at hand," David Frum wrote in a piece published Wednesday by the Atlantic.
Trump again suggested the op-ed and the Times could amount to treason during Thursday's campaign rally for Republican Senate hopeful Matt Rosendale, calling it "unfair" and speculating it could have been written by someone in the "deep state."
The op-ed is only the latest suggestion that the dysfunction that's characterized the Trump administration since day one may be getting worse. Excerpts from a book by Bob Woodward, set to be released on Tuesday that have surfaced in the media this week, portray an unhinged, unqualified president constantly fighting with close aides.
At Thursday's rally, Trump said his administration had "discredited" Woodward's forthcoming book. In a tweet early Friday, he called the book a "scam" and accused the legendary reporter of making up quotes.
"The author uses every trick in the book to demean and belittle," Trump claimed Friday. "I wish the people could see the real facts — and our country is doing GREAT!"