Millions of Americans could lose food stamp benefits under proposed farm bill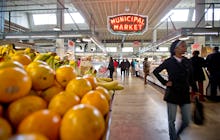 A farm bill being negotiated in Congress could affect millions of Americans' access to food stamps, a new study has found.
The study, conducted by nonpartisan research firm Mathematica Policy Research and the Robert Wood Johnson Foundation and released Thursday, found that if the version of the farm bill already passed by the House becomes law, nearly 2 million households that participated in the Supplemental Nutrition Assistance Program in 2015 would no longer be eligible for benefits.
Of those who would lose eligibility, 34% of households include senior citizens, 23% include children and 11% include a person with a disability, according to the study. An additional 283,000 households would be newly eligible for benefits under the House bill, the study also found.
The SNAP eligibility changes come from provisions in the House bill that eliminate "broad-based categorical eligibility," which allows households to automatically qualify for SNAP if they meet the financial qualifications for the Temporary Assistance for Needy Families program, rather than federal SNAP requirements. The bill would also increase the amount of cash resources that SNAP households can have and still qualify for the program from $2,250 to $7,000, or from $3,500 to $12,000 for households with an elderly or disabled person.
The Mathematica study did not take into account provisions in the House bill that increase work requirements on SNAP beneficiaries, requiring them to work or participate in job training for 25 hours each week instead of the 20 hours currently required. A separate Congressional Budget Office analysis found those provisions alone would lead to 1.2 million people to lose SNAP benefits, and 62% of those losing benefits would be adults living in households with children.
The farm bill has already passed both the House and Senate, and is being reconciled into a final bill before the current law expires on Sept. 30. Unlike the House bill, the Senate version made only minor changes to the SNAP program, which is used by more than 40 million low-income Americans. The Senate bill did not include the increased work requirements or the changes to SNAP eligibility.
President Donald Trump has pushed for Congress to adopt the SNAP work requirements, tweeting his support for the provision Wednesday.
"The Trump Economy is booming with help of House and Senate GOP," Trump tweeted. "#FarmBill with SNAP work requirements will bolster farmers and get America back to work. Pass the Farm Bill with SNAP work requirements!"