This Week in Food and Travel: How locals feel about the first Starbucks in Italy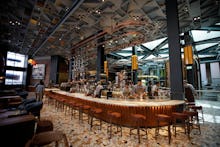 Italy, a place known its enthralling food and coffee scene, officially has its first Starbucks in Milan. The store isn't just any old regular Starbucks — it serves cocktails, ice cream and even pizza. But not everyone is psyched about presence of the green mermaid in the European country. "You can imagine when Starbucks opens and gives you your bucket of coffee, it's kind of like, 'What are you giving me, a cappuccino for the next two weeks?'" one Italian expert said of the chain's oversized coffees. But how will they react to the overwhelming allure of a venti pumpkin spice latte?
In other news, we explored how Netflix made a digestive yogurt trend on Twitter, examined the ways in which one hospital is reimagining its food to comfort both patients and visitors and explored Universal Orlando's efforts to grow up — with attractions aimed at adults (and the kid in all of us).
Italian coffee culture and Starbucks have very little in common, but one expert still thinks the green mermaid will thrive.
Yakult isn't named in the Netflix movie, but sharp-eyed viewers everywhere immediately recognized the Japanese probiotic drink of their childhood.
Chicken soup specifically designed for cancer patients is just one way hospitals are changing the way they think about the role of food.
Thanks to the success of the Wizarding World of Harry Potter, Universal is doubling down on an older audience with attractions inspired by The Fast and the Furious franchise and Jimmy Fallon.