Les Moonves reportedly tried to ruin Janet Jackson's career after Super Bowl "wardrobe malfunction"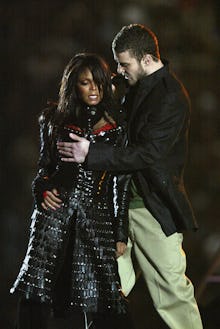 A new report states that Leslie Moonves, the Chairman and CEO of CBS, was plotting to end Janet Jackson's career following the "wardrobe malfunction" during her Super Bowl XXXVIII halftime performance with Justin Timberlake, sources told Huffington Post.
Following the February 2004 incident in which Timberlake exposed Jackson's breast on stage, Moonves reportedly banned both stars from the forthcoming Grammys. But Timberlake was allowed to perform at the ceremony after he "tearfully apologized" to Moonves, according to sources. Jackson, on the other hand, was apparently not as remorseful as Timberlake, which stirred Moonves' animosity towards her.
What followed was a series of intentional moves to block the promotion of Jackson's work on Viacom-owned properties including MTV, VH1 and the company's radio stations — moves that ultimately had an effect on the sales of Jackson's Damita Jo, which she released a month after the Super Bowl controversy took place. A Billboard report in 2009 stated that the album sold just over 1 million copies, compared to its predecessor, 2001's All for You, which sold over 3 million copies.
Sources also told Huffington Post that Moonves was still angry at Jackson seven years after the Super Bowl event. In 2011, she signed a book deal with Simon & Schuster, a CBS-owned publisher.
"How the fuck did she slip through?" Moonves reportedly said, according to a source from the story.
Many media outlets revisited the controversy around the Super Bowl debacle when it was announced Justin Timberlake would headline the Super Bowl this past February. Fans of Jackson who think Timberlake still owes Jackson an apology called for a #JanetJacksonAppreciationDay on Twitter to protest his performance and celebrate her musical career.
As the aughts came to a close, Jackson released two more albums — 20 Y.O. in 2006 and Discipline in 2008. She kept a lower profile until returning with Unbreakable in 2015.
In 2018, Jackson has been more celebrated, having received honorary awards, including the Billboard Music Awards Icon Award in May and the Rock Star award for BET's Black Girls Rock. Jackson is also currently wrapping up her State of the World tour dates and, in August, Jackson released a new song with Daddy Yankee called "Made for Now."
As for Moonves, he is currently under investigation for alleged sexual misconduct by lawyers hired by the CBS Board of Directors. Six women accused Moonves of sexual advances such as unwanted kissing and touching, the New Yorker reported in August.
In response to the allegations, Moonves said, "I recognize that there were times decades ago when I may have made some women uncomfortable by making advances. Those were mistakes, and I regret them immensely."