While You Weren't Looking: 5 stories from the Trump administration that aren't an anonymous op-ed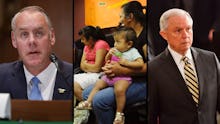 The theatrics of Judge Brett Kavanaugh's senate confirmation hearings probably would have been enough to roil Washington on their own this week, but then along came two astounding pieces of journalism that set the Trump White House fully ablaze.
First, the Washington Post published an exclusive preview of famed journalist Bob Woodward's forthcoming book, Fear: Trump in the White House, which contains hundreds of scintillating interviews with deep-background sources who claim that President Donald Trump is constantly being undermined by resistance figures within his own administration.
As shocking as the Woodward dispatches were, they were quickly eclipsed by an even more damning report: an anonymous op-ed in the New York Times written by a "senior administration official" who confirmed that there are indeed individuals in Trump's own administration who are "working diligently from within to frustrate parts of his agenda and his worst inclinations."
While yet another media circus was pitching its tent outside the Oval Office, here are five stories from other corners of the Trump administration you might have missed this week.
Immigrants flee federal nutrition programs in droves out of fear of WH crackdown
Fearing a recently announced White House policy that would make it more difficult for immigrants who have utilized social safety net programs to obtain green cards, both documented and undocumented immigrants are reportedly canceling their participation in government assistance programs.
In August, the Trump administration announced a new, Stephen Miller-shaped policy that would crack down on any immigrants — legal or otherwise — who have at any point used or lived with someone who has used government assistance programs like the Children's Health Insurance Program, the Supplemental Nutrition Assistance Program or the Affordable Care Act.
Local health providers who spoke to Politico this week said that there has been a surge in both documented and undocumented families calling up to demand that they be dropped from the rolls of WIC, a federal nutrition program that's designed to primarily assist pregnant women and children.
Although the White House policy has not yet been formally instituted, officials told Politico that the ambient threat of the government denying citizenship to anyone who has used public assistance is enough to cause widespread fear and panic.
"The big concern for all of us in the WIC community is that this program is really about growing healthy babies," Rev. Douglas Greenaway, president and CEO of the National WIC Association, told Politico. "When any population that's potentially eligible for this program is either driven away by changes in regulation or legislation or simply by political rhetoric inducing fear there are huge personal consequences to those babies and their families."
Officials probe $43K in concert tickets reportedly given to Interior Secretary
The National Park Service announced on Thursday that it had "engaged an ethics officer" to investigate a performing arts center under its jurisdiction after an inspector general's report revealed the venue's long-held policy of giving the Secretary of the Interior access to more than $43,000 in free concert tickets.
According to the inspector general's report, the Department of the Interior's current head, Ryan Zinke, is not the first official who stands to benefit from an arrangement with Wolf Trap Foundation for the Performing Arts, which provides the sitting interior secretary with "a box of (8) seats for each performance" at the park. Since the 1970s, the nonprofit foundation that runs Wolf Trap has remained faithful to an agreement with the NPS to provide the department with free tickets, according to CNN.
Jenny Anzelmo-Sarles, a spokesperson for the National Park Service, told CNN that the 20-year contract is slated to end in October, and that her department is working to ensure that "we are able to fully consider and address the recommendations in the OIG Special Report."
Trump nominee to lead Interior Department's mining agency withdraws
The Kentucky mining consultant tapped by Trump to lead the Interior Department's Office of Surface Mining Reclamation and Enforcement withdraw himself from consideration on Thursday, citing concerns about how long the vetting process was taking.
According to ThinkProgress, J. Steven Gardner — an ardent climate change denier with extensive ties to the fossil fuel industry — had faced significant backlash from environmental advocacy groups. After continued pressure from the Office of Government Ethics for nearly a year, Gardner announced that he'd had enough.
"This decision was very difficult for me and comes after almost a year of back and forth with [OGE] over the conditions for an ethics agreement," he said in a Thursday statement. "Now, I have reached the point that the uncertainty of when confirmation would actually take place, numerous reversals by OGE of conditions, unknown financial implications, and unknown final conditions have led me to make the decision to withdraw."
Gardner said in the statement that he now plans to "move on to refocus on my business and family and recoup some of the opportunities lost from the last year of uncertainty."
Jeff Sessions throws DOJ muscle behind investigation into Silicon Valley
On Wednesday, the leaders of several social media giants — including Twitter CEO Jack Dorsey and Facebook chief operating officer Sheryl Sandberg — arrived in Washington to testify before Congress over allegations of anti-conservative bias in Silicon Valley.
Republicans, led by Trump, have long complained that the tech platforms censor news and other speech from conservatives, despite little evidence to back up the claim.
But Attorney General Jeff Sessions upped the ante when he announced that the Department of Justice will soon begin its own inquiry into the matter — a sprawling investigation that will see attorney generals from several different states convene "to discuss a growing concern that these companies may be hurting competition and intentionally stifling the free exchange of ideas on their platforms."
The announcement elicited consternation from tech officials alarmed at the possibility that the investigation could ultimately impugn their ability to run their companies as they see fit.
"Conservative values are centered around the idea that businesses should be allowed to do what they think is best for their customers, and that's exactly what these companies are doing," Carl Szabo, vice president and general counsel of the trade association NetChoice, told Politico. "It doesn't make any sense to me."
Trump appointee once called climate science "George Orwell"-level propaganda
Trump's newest National Security Council appointee is apparently such a staunch defender of carbon, he once wrote an impassioned 2013 article for the Wall Street Journal literally titled "In Defense of Carbon," in which he argues that more carbon pollution "would be a benefit" to humanity.
According to ThinkProgress, William Happer — who's currently up for the role of "senior director for emerging technologies" at the NSC — also told the Daily Princetonian in 2009 that climate science linking carbon to global warming is "George Orwell"-level propaganda.
"This is the 'Germans are the master race. The Jews are the scum of the earth,'" Happer told the paper. "It's that kind of propaganda. Carbon dioxide is not a pollutant. Every time you exhale, you exhale air that has 4% carbon dioxide."
"To say that that's a pollutant just boggles my mind," Happer continued. "What used to be science has turned into a cult."