Who's Sorry This Week? The handsy bishop at Aretha Franklin's funeral and other public apologies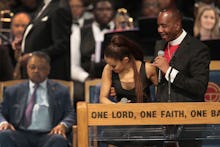 Another week, another deluge of apologies.
In Who's Sorry This Week? Mic tracks down the most prominent mea culpas from celebrities, companies and other public entities trying to make amends for their various screw-ups.
This week had no shortage of apologies, so let's get right to it.
The bishop at Aretha Franklin's funeral is sorry he groped Ariana Grande
The funeral for music icon Aretha Franklin was a star-studded, glamorous, celebratory affair — but it wasn't without its hiccups.
After Ariana Grande performed "(You Make Me Feel Like) A Natural Woman," she was joined onstage by Bishop Charles H. Ellis III, who led the ceremony. In just a short time, Ellis both made a crass joke about Grande's name and groped her.
"I've got to apologize because I have to brush up," Ellis said, according to Billboard. "When I saw Ariana Grande on the program, I thought that was new something at Taco Bell."
While he made this joke, he had his arm around Grande's midsection, with one hand clasped to her upper ribs, brushing against her breast. Images of Ellis' hand placement were widely shared on social media, often with the hashtag #RespectAriana.
On Saturday, the day after the ceremony, Ellis apologized.
"It would never be my intention to touch any woman's breast. … I don't know, I guess I put my arm around her," Ellis said, according to the Associated Press. "Maybe I crossed the border, maybe I was too friendly or familiar, but again, I apologize."
He also apologized for his joke about Grande's name.
"I personally and sincerely apologize to Ariana and to her fans and to the whole Hispanic community," Ellis added, per AP. "When you're doing a program for nine hours you try to keep it lively, you try to insert some jokes here and there."
Luke Cage actor Mike Colter is sorry he made a joke about the pastor groping Ariana Grande
Franklin's funeral actually yielded an apology twofer.
Apparently, one of the pictures showing Ellis' hand placement on Grande caught the eye of Mike Colter, the lead actor in Netflix's Marvel series Luke Cage. Colter tweeted about the incident detailed above, making light of the whole situation, according to Deadline.
"Now THIS is how you shoot your shot! Zero F***!" he said in reference to Ellis' hand on Grande's body.
After multiple people called Colter out for his comments, he deleted the original tweet and replaced it with an apology.
"I apologize about my tweet earlier," Colter tweeted, which also seems to have since been deleted. "In no way do I condone any such behavior. It was intended to point out the absurdity of the act itself. Complete and biting sarcasm. I realized quickly that it was not taken as such."
Director Shane Black is sorry he cast his friend, a registered sex offender, in Predator
On Sept. 14, a new entry in the Predator franchise will hit theaters. This time around, the film is directed by Shane Black, who you might know as the director of Kiss Kiss, Bang Bang and Iron Man 3. (Black actually also appeared in the original 1987 film Predator, as an actor.)
Olivia Munn, one of the stars of the latest movie, The Predator, reportedly learned recently that one of the actors she shares the screen with is a registered sex offender. Steven Wilder Striegel, the man in question, pleaded guilty in 2010 to two felonies after being accused of luring a 14-year-old into a sexual relationship over the internet, according to the Los Angeles Times.
Striegel's role in the film, apparently, was as a jogger who repeatedly hits on Munn's character. After learning of Striegel's felony convictions, Munn raised the issue with Fox, which decided to delete Striegel's scene from the movie altogether.
"Our studio was not aware of Mr. Striegel's background when he was hired," a Fox spokesperson said in a statement, according to the LA Times. "We were not aware of his background during the casting process due to legal limitations that impede studios from running background checks on actors."
Black initially defended his decision to cast Striegel, but after the LA Times published its report, which contained details of Striegel's correspondence with the girl, he issued an apology, saying that he felt "misled" by Striegel.
"After learning more about the affidavit, transcripts and additional details surrounding Steve Striegel's sentence, I am deeply disappointed in myself," Black said Thursday, according to the Hollywood Reporter. "I apologize to all of those, past and present, I've let down by having Steve around them without giving them a voice in the decision."
A Texas doctor is sorry he said women get paid less because they don't work as hard
In a recent edition of the Dallas Medical Journal, Dr. Gary Tigges offered some musings on the gender pay gap in the medical world.
"Yes, there is a pay gap," Tigges wrote, according to KTVT. "Female physicians do not work as hard and do not see as many patients as male physicians. This is because they choose not to, or they simply don't want to be rushed or they don't want to work the long hours. Most of the time, their priority is something else... family, social, whatever."
Obviously, Tigges' remarks inspired a backlash, prompting the chair of the Dallas County Medical Society to respond, saying Tigges' comments were "not the opinion of the Dallas County Medical Society," according to KTVT.
Soon thereafter, Tigges released a statement apologizing to his colleagues.
"I have heard from several trusted female physician colleagues who disagree with and are deeply hurt and offended by the comments I made to the Dallas Medical Journal regarding pay equity among female and male physicians," he said. "I want to thank them for reaching out to me and sharing their concerns. I now understand more clearly how intricate this issue is ... I sincerely apologize to all female physicians for my comments and the pain they have caused."
A New Jersey woman is sorry she took that now-viral photo of Geoffrey Owens working at Trader Joe's
Recently, a photo of Cosby Show actor Geoffrey Owens working his day job at a Trader Joe's in New Jersey went viral online after a number of gossipy news outlets posted shame-y, taunting stories about it.
The woman who snapped the photo, ironically named Karma Lawrence, now feels terrible about the embarrassment the attention caused Owens.
"I don't know why I snuck a picture," Lawrence said in an interview with NJ.com. "I figured everybody does it. I don't know what possessed me. I just did it. I didn't even think about it. I just kind of did it on impulse and it was a bad impulse."
Lawrence added that before she took the photo, "I actually wanted to go up to him and say something, but I thought, 'You might embarrass him.' But then I did something that actually embarrassed him more. I didn't go with my first instinct, and I should've. I should've."
Lawrence said if she had the chance, she would apologize to Owens personally.
"I would tell him, 'I am extremely, extremely apologetic about what has happened,'" Lawrence said. "And if I could take it back, I would." 
As for Owens, though the initial reports were embarrassing, things have been working out. A number of celebrities have chimed in with their support and respect for Owens' hustle — and reportedly, Owens just accepted a role as a recurring actor on Tyler Perry's The Haves and the Have Nots, according to TMZ.